On the Trail of Army Group Center

Directly below are photographs from my Journey to Rzhev, Russia with the "Kuratorium Rzhev" (May 2005); they are followed by over 100 color photos of my journey to Russia in June 2016 ("On the trail of Army Group Center").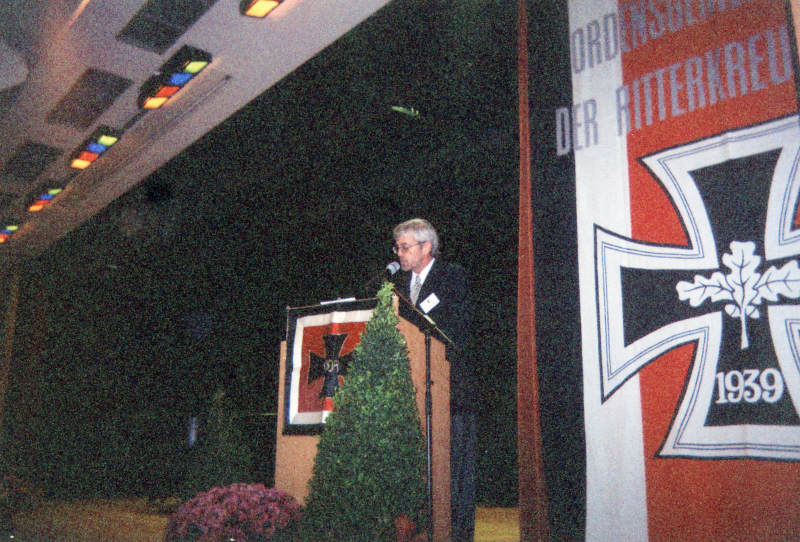 This picture is not from Rzhev. This is me speaking in Germany in October 2008 before an organization which honors Knight's Cross holders from World War 2.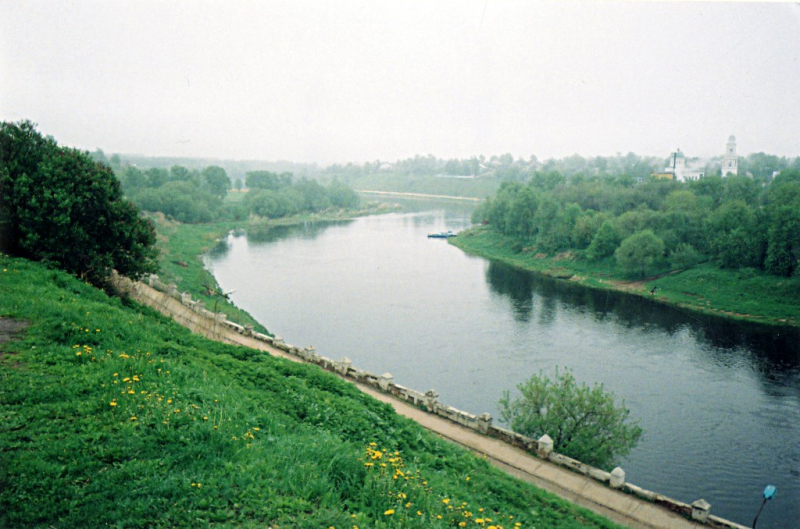 The mighty Volga River running through Rzhev.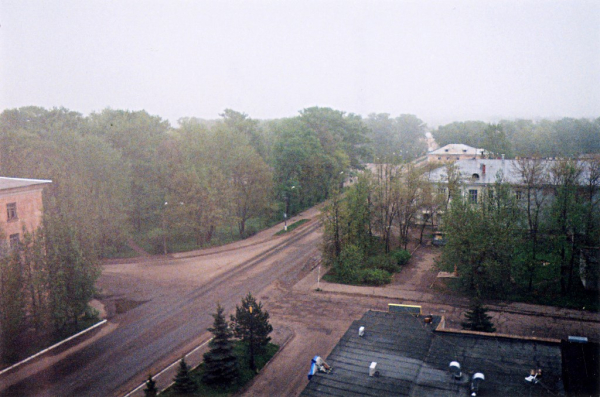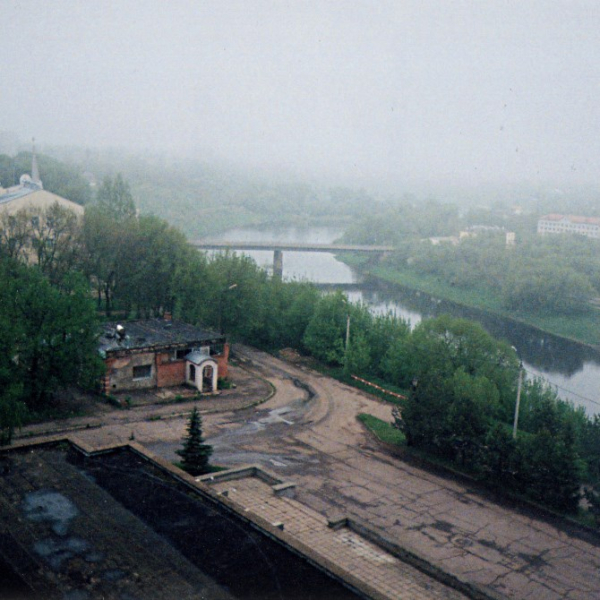 City of Rzhev. Photograph taken from my hotel room.

Another image of Rzhev. A bleak-looking city of about 70.000 people beset by much poverty.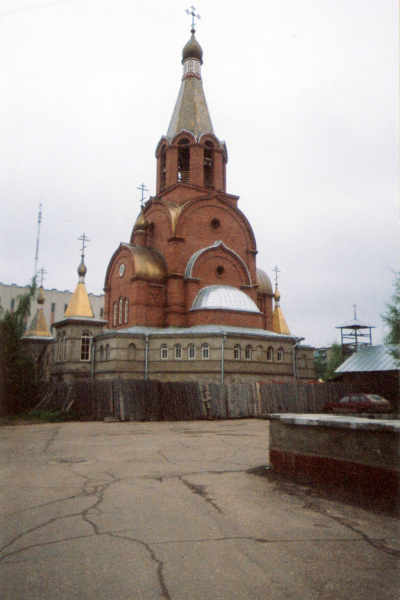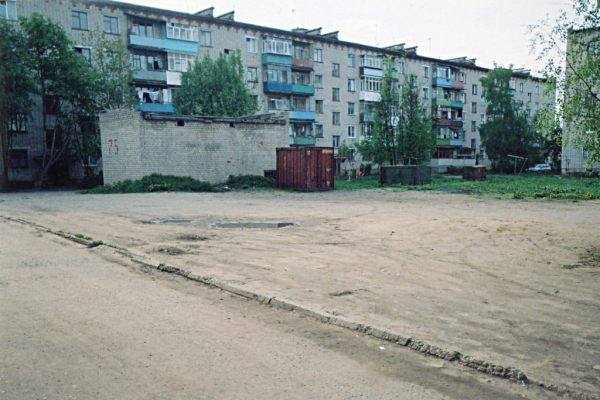 The Cathedral in Rzhev just outside our hotel.

Soviet-era residential blockhouse in Rzhev.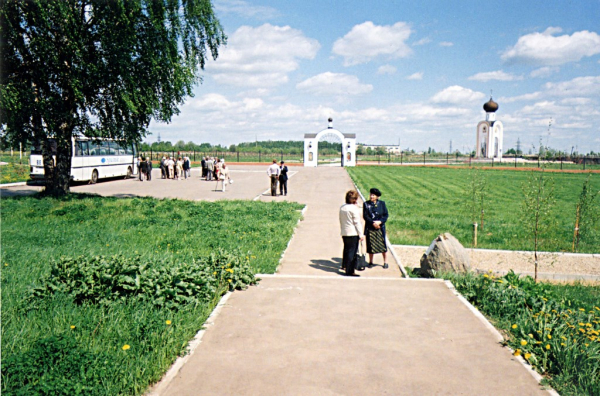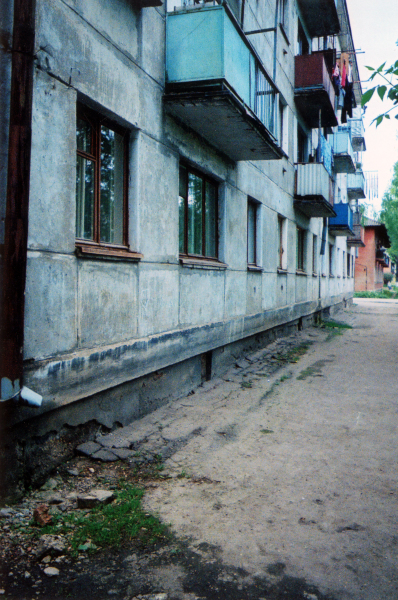 A close-up image of a residential blockhouse in Rzhev.

The "Peace Park" at Rzhev -- with adjacent German / Russian Military Cemeteries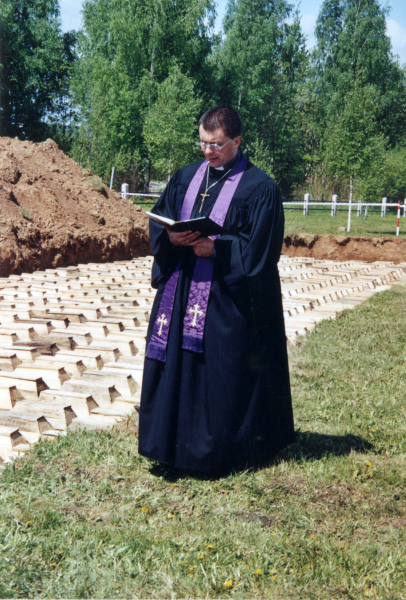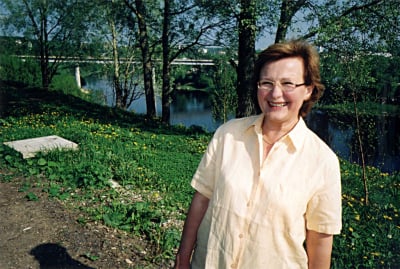 Our wonderful German-Russian translator, Ursula Seyfarth.

The remains of some 600 German soldiers being laid to rest.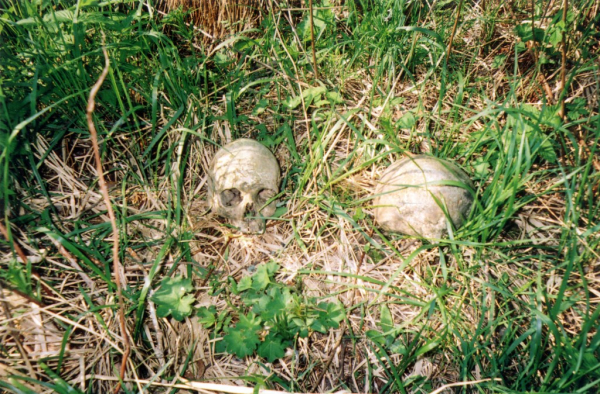 A plundered grave of German paratroopers, just outside Rzhev. 

Another image of the plundered grave.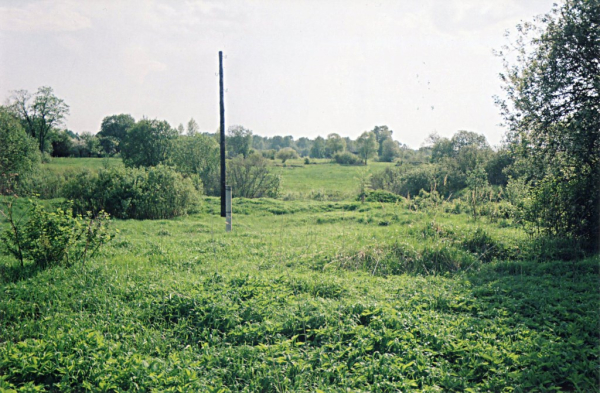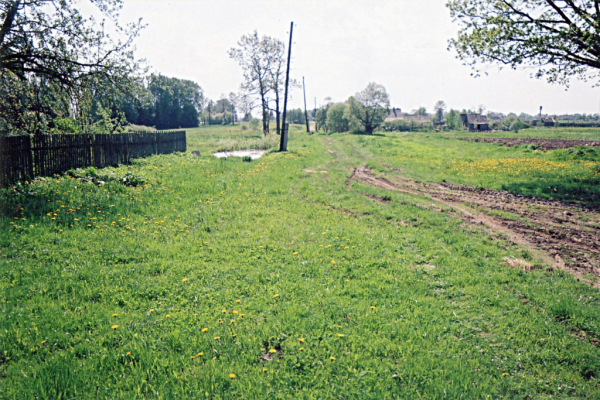 Typical terrain just outside Rzhev.

A tiny village in the background.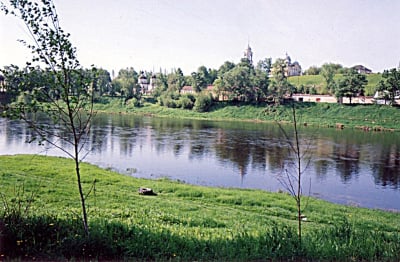 Behind the Volga River the monastery church outside the town of Staritza. The town (ca. 175 km NW of Moscow) was captured by the Germans in October 1941 and evacuated at end of December during the retreat from Moscow. ( Note: I cannot seem to enlarge this photograph without running into problems.)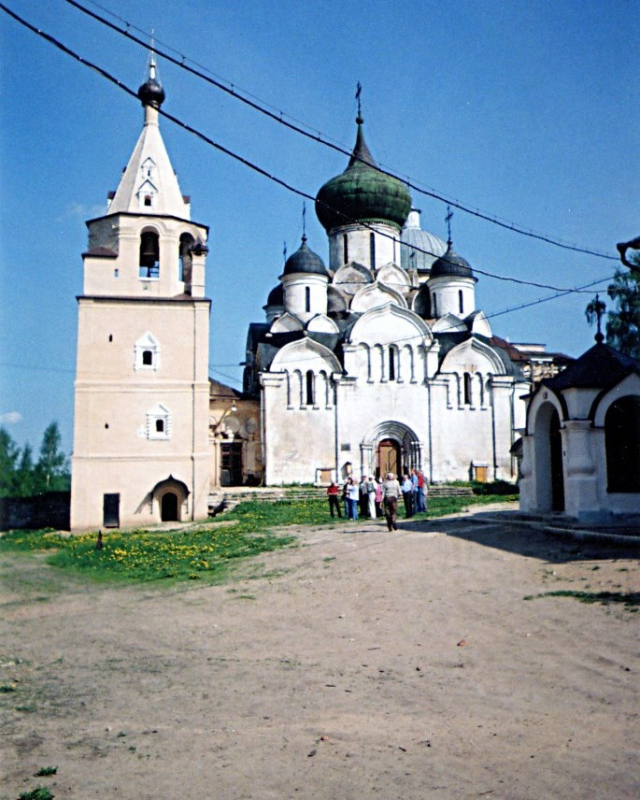 The monastery outside Staritza, dating from about the 12th Century.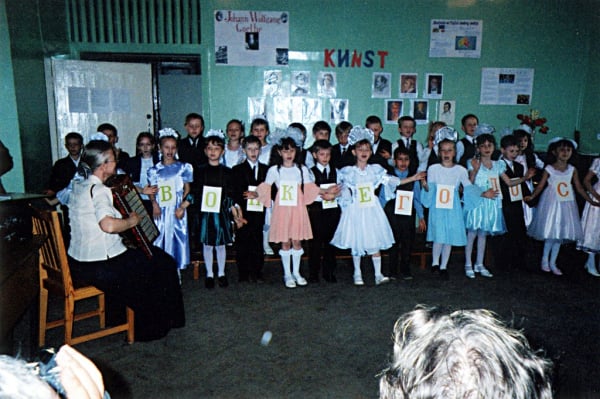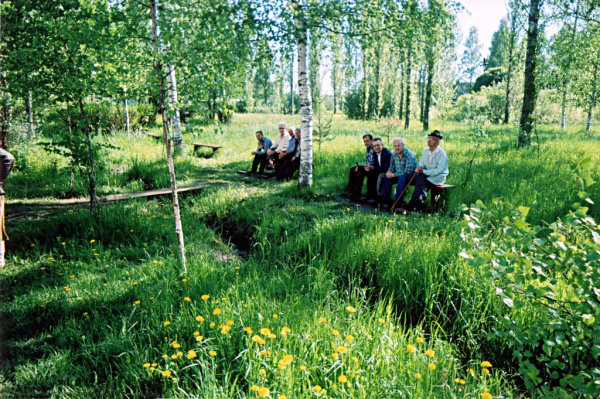 Russian school children perform for us in Rzhev.

Old men relax among the ubiquitous birch trees.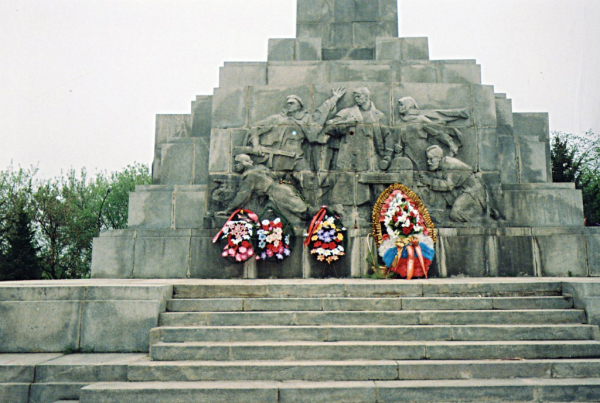 One of many Russian War Monuments in the Rzhev - Moscow area.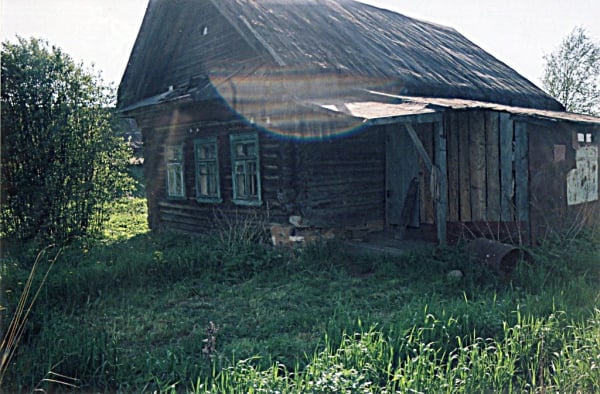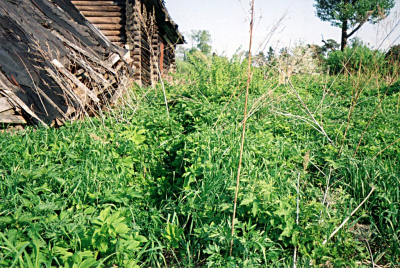 Edge of a dilapidated barn or farmstead -- like so many in the Rzhev region. Such wild, thick undergrowth is also encountered everywhere.

Isolated dwellings like this (some abandoned) are not uncommon in the Rzhev area, while most of the local villages consist of only a handful of houses. It is not a picture of vibrant human activity, but of palpable decline. For which one can surely blame the horrific trials of the 1418 day war with Hitler's Germany.

On the trail of Army Group Center
The photographs below were taken during our journey through eastern Europe and Russia in June 2016 on the trail of Dr. Heinrich Haape's Infantry Regiment 18 (see Blog Post #16). In Rzhev, we joined up with the German delegation of the Kuratorium Rzhev (see also Post #16 for background on the Kuratorium). We were in Rzhev on 22 June 2016 and witnessed the solemn remembrance of the 75th anniversary of the German attack on Soviet Russia.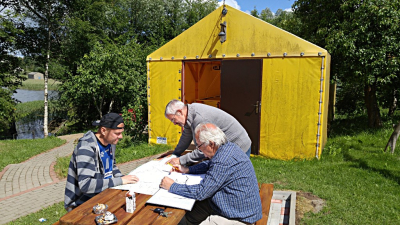 The "General Staff" in eastern Poland, planning our moves. On left, our guide from Belarus, Sergej Stasikov; Dr Luther (me) in center, and Johannes Haape (son of Dr. Heinrich Haape) on the right.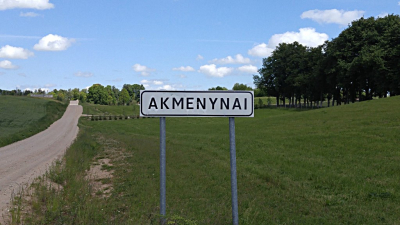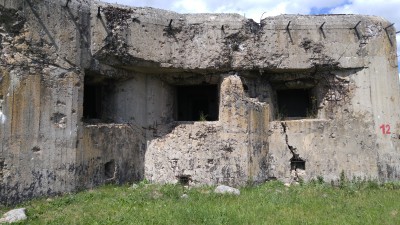 Town in Lithuania just beyond 1941 Russo-German frontier. Bunkers outside the town were attacked by German I.R. 18 (6 ID) on 22 June 1941 at heavy cost in lives.
Remains of one of the Red Army bunkers outside Akmenynia.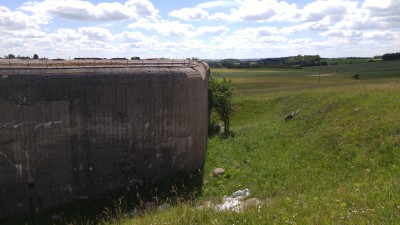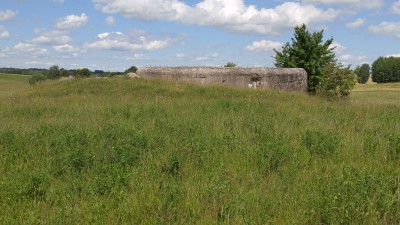 Red Army bunker outside Akmenynia.
Red Army bunker outside Akmenynia.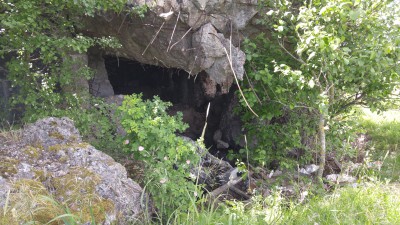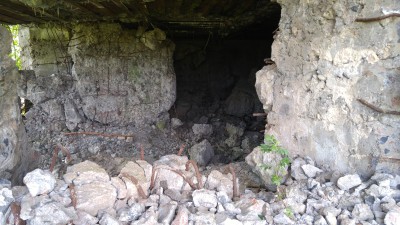 Red Army bunker outside Akmenynia. Germans had to bring in combat engineers with flamethrowers to finish off the tenaciously defended bunkers.
Remains of Red Army bunker outside Akmenynia.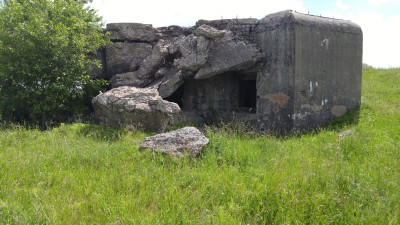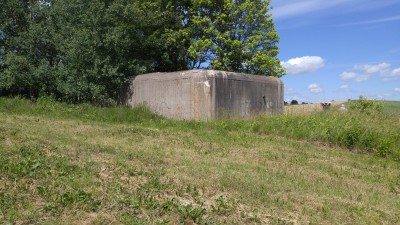 Red Army bunker outside Akmenynia.
Red Army bunker outside Akmenynia.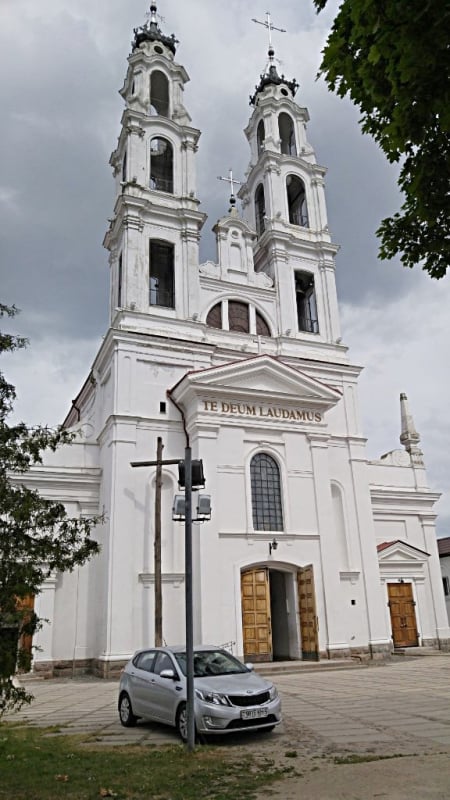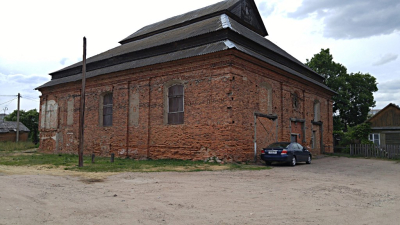 Remains of Synagogue in Oszmiana. Majority of Jews in town did not survive war; those few who did left the town in 1948.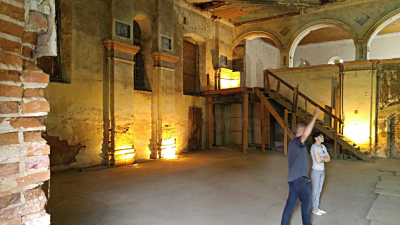 Inside the abandoned Synagogue in Oszmiana. Man in photo was our guide, Sergej Stasikov.
Catholic Church in Oszmiana (Belarus). Described by Dr Haape in "Pan Pankowski" story (See Blog Post #5)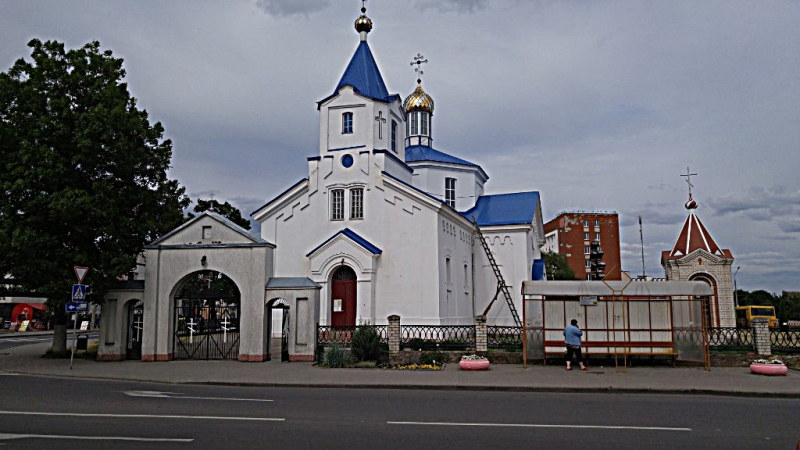 Orthodox Christian church in Oszmiana.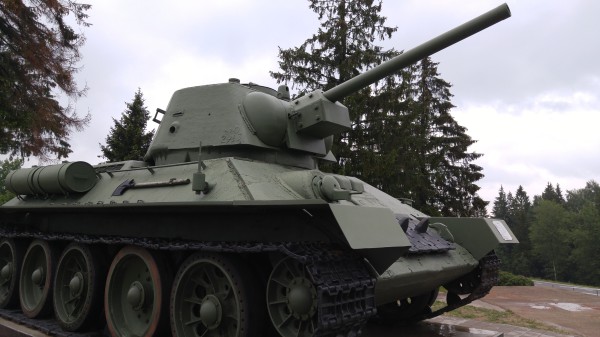 Soviet T-34/76 tank at the open-air Stalin Line Museum. The museum is located just outside Belorussian capital of Minsk.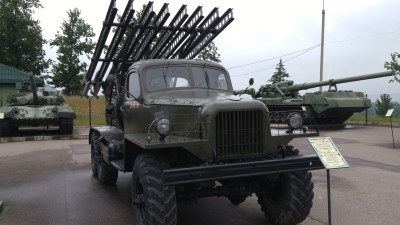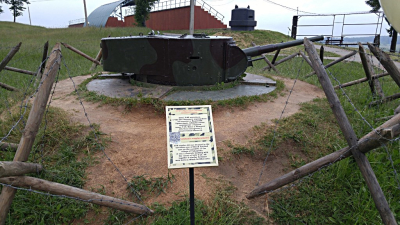 Example of Red Army bunker position in Stalin Line fortified zone near Minsk.
Red Army Katyusha ("Stalin Organ") rocket launcher. This fearsome weapon was first introduced on central front in July 1941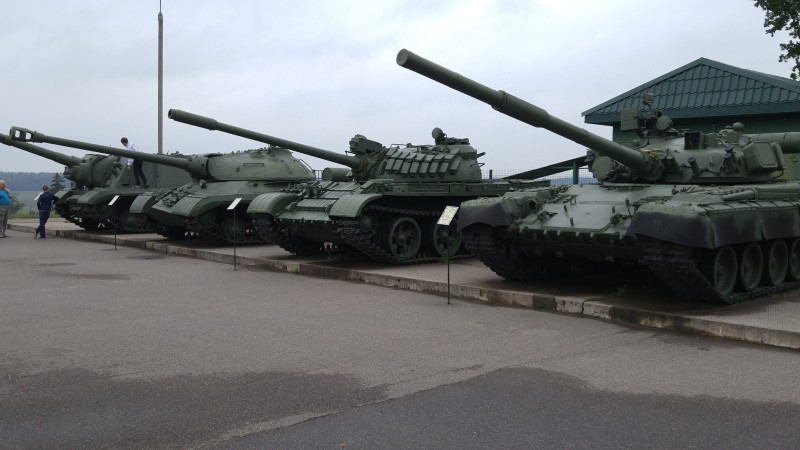 Post-World War II Soviet main battle tanks on display at Stalin Line Museum.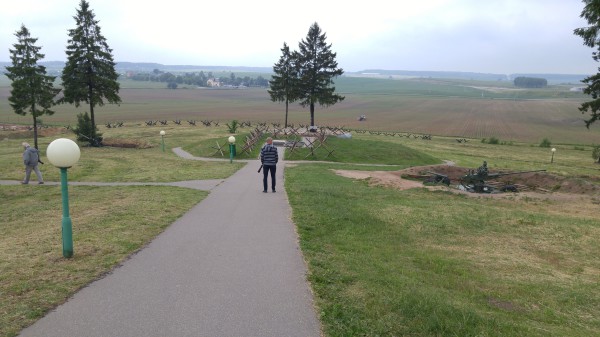 Our guide, Sergej, looks out into the terrain just beyond the Stalin Line Museum.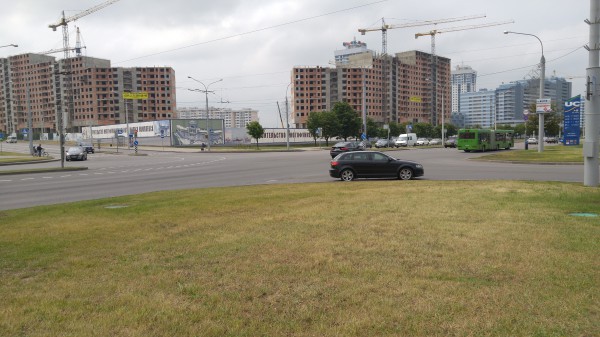 Belarus capital of Minsk. In 1940, it had a population of ca. 300,000; today more than two million people reside in this city of massive structures and little charm.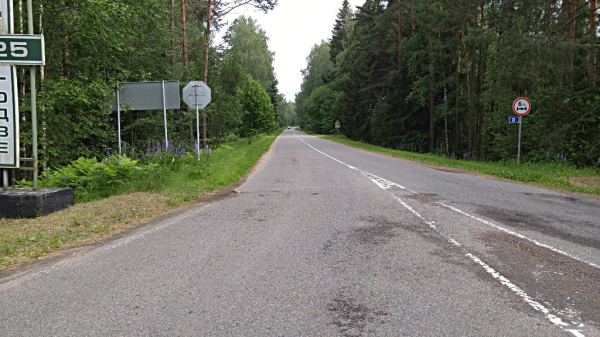 We push on eastward thru the endless forests of Belarus. Virtually all "highways" are undivided and clearly not up to western standards. (15 June 2016)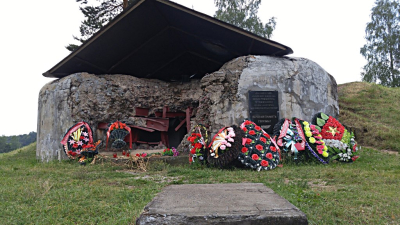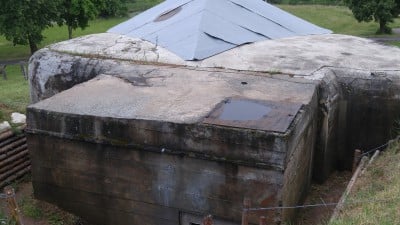 Red Army bunker in Stalin Line outside Fortress City of Polotsk. This bunker (and those which follow) were seized with relatively light casualties by Dr Haape's I.R. 18 on 15 July 1941.
Soviet bunker festooned with garlands. In his memoir, Dr Haape describes the storming of the Stalin Line at Polotsk in Chapter 6.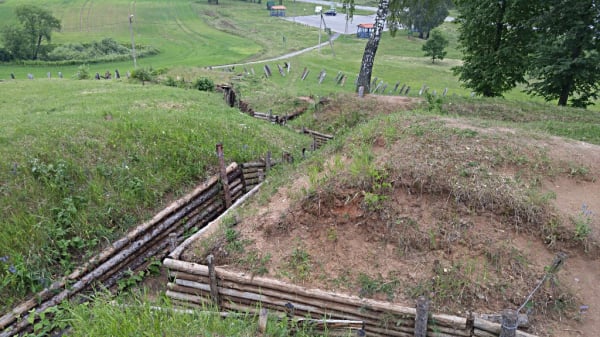 Red Army defenses in Polotsk fortified zone. These trenches clearly refurbished to show them as they were in July 1941.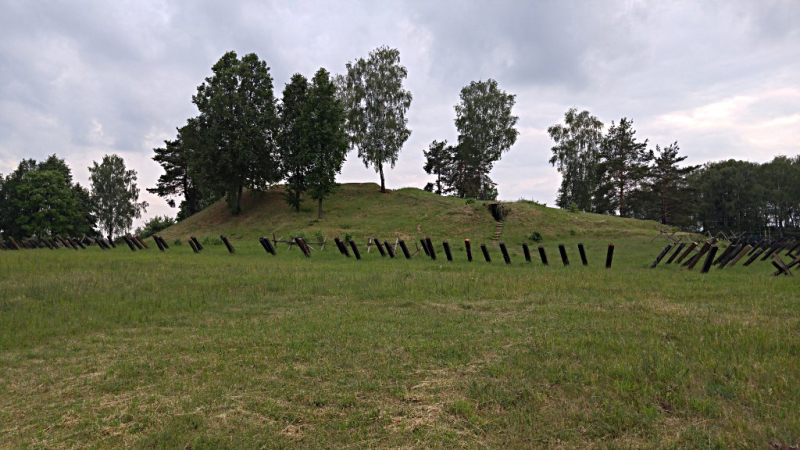 Another perspective of defenses shown in the previous photograph -- large Soviet bunker at top of the hill.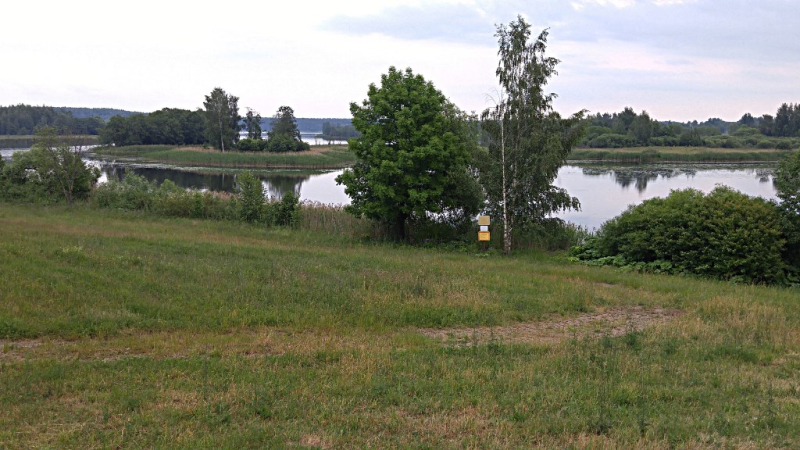 The Soviets had integrated a series of lakes and marshes into their defenses outside Polotsk, no doubt in attempt to channel German advance along certain lines; these tactics, however, proved ineffective.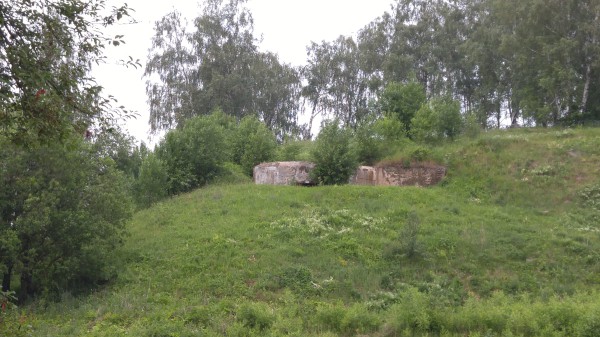 Red Army bunker outside Polotsk.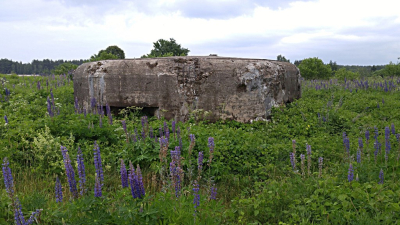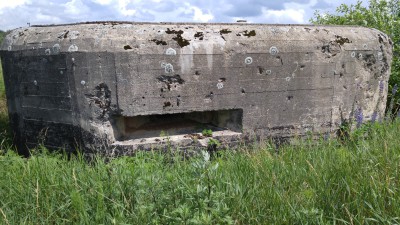 Red Army bunker outside Polotsk; badly damaged by German shellfire.
Red Army bunker outside Polotsk; the many hits made by German shellfire are clearly evident.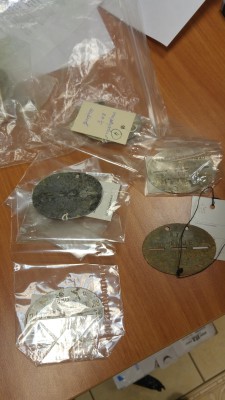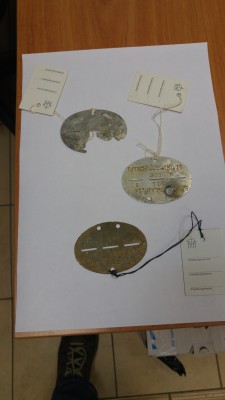 On 17 June, we visited the office of the German War Graves Commission in Smolensk. Among other things, they showed us several bags filled with the "dog tags" of German soldiers killed in combat.
One of the "dog tags" displayed here (center) reveals a bullet hole in lower-right corner.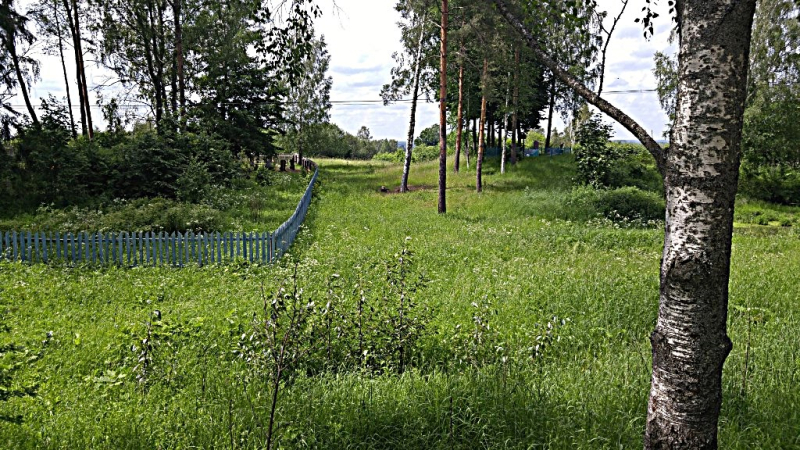 Example of lovely, forested terrain north of Smolensk. The birch trees were ubiquitous. German soldiers were often awed by the physical beauty of the Russian landscape.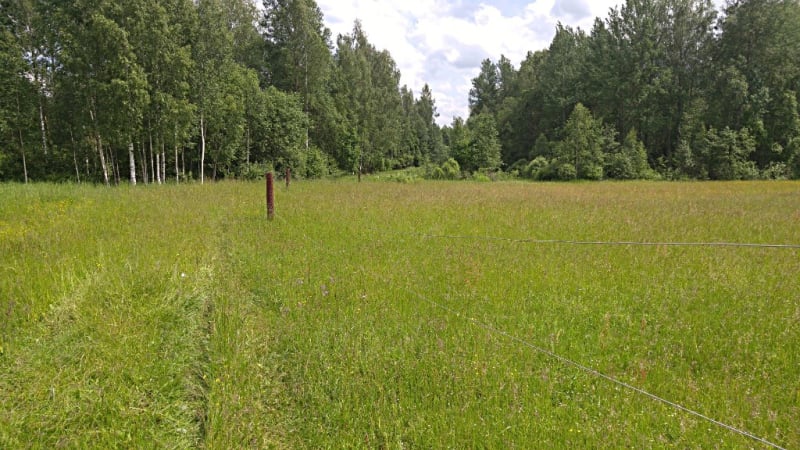 Mesha River sector, due north of Smolensk. Here, among primeval forests, Dr Haape's division fought a war of position in Aug-Sep 1941. The mosquitoes, bees and other flying insects we encountered were most unpleasant! This area was truly the End of the Earth -- inhabited by very few people.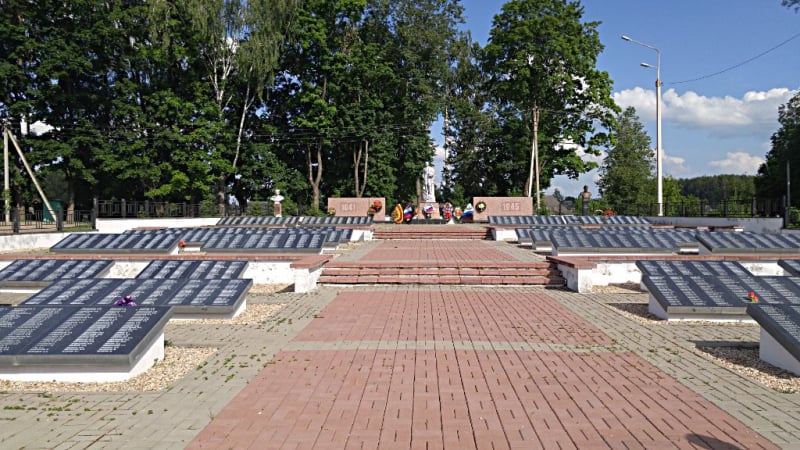 Soviet war memorial in town of Dukovshchina, ca. 40 km N/NE of Smolensk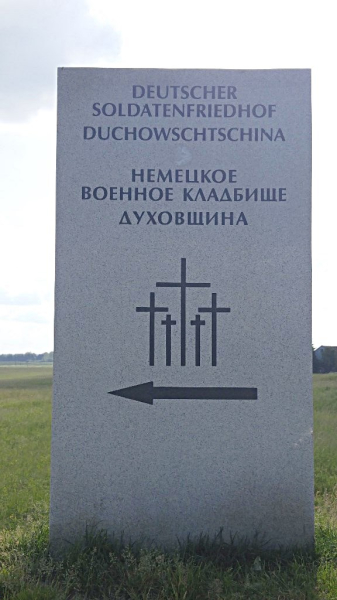 Large monument marking entry way into German military cemetery at Dukovshchina.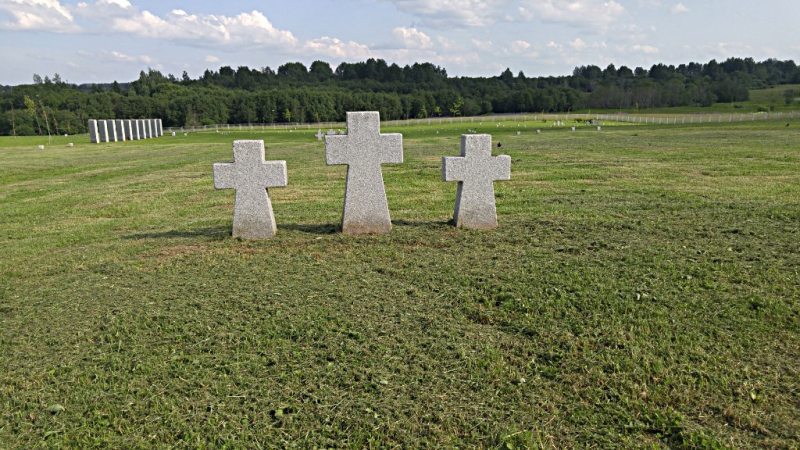 German military cemetery in Dukovshchina. By 2013, 30,500 German war dead were buried here from Smolensk - Briansk - Kaluga regions.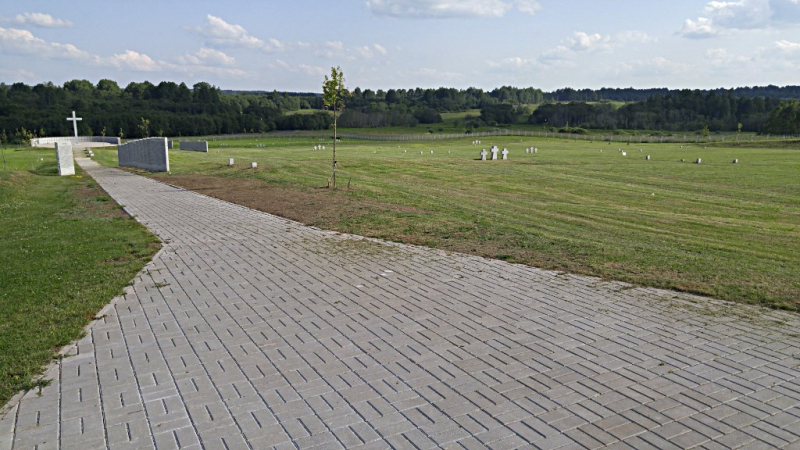 German military cemetery outside Dukovshchina. According to our special War Graves Commission guide, the commission has a list of 140,000 German KIA in Smolensk area; of these, 50,000 have been identified.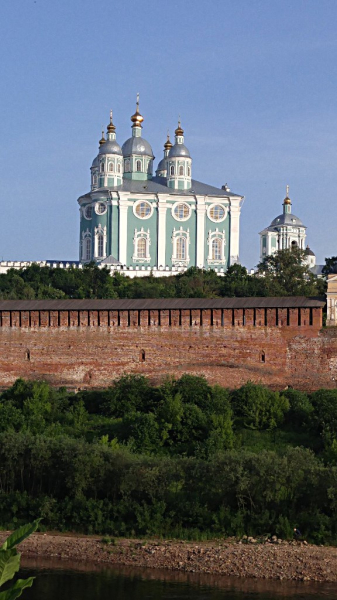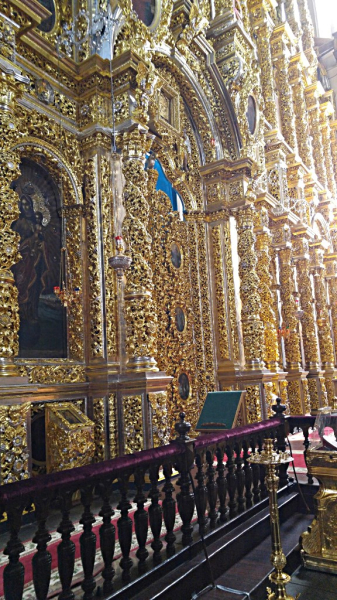 Breathtaking Uspenski Cathedral (The Cathedral Church of the Assumption) -- high atop Cathedral Hill and dominating the city of Smolensk. Origins of the church reach back to the 12th Century.
Uspenski Cathedral -- a view of some of its intricate gold-covered appointments.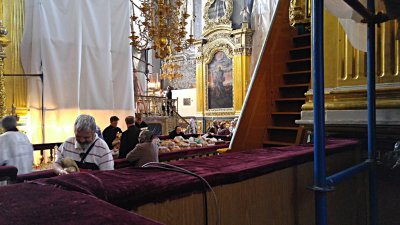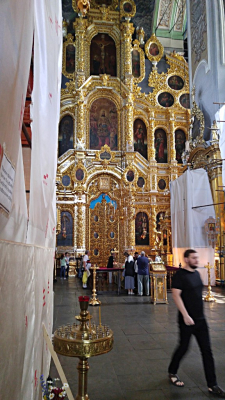 After capturing Smolensk in mid-July 1941, the Germans reopened the cathedral for religious services by the Russian people. 
In his memoir, Colonel Hans von Luck (7 PD) claims that, in early Aug 41, he attended the first orthodox mass in the cathedral in over 20 years..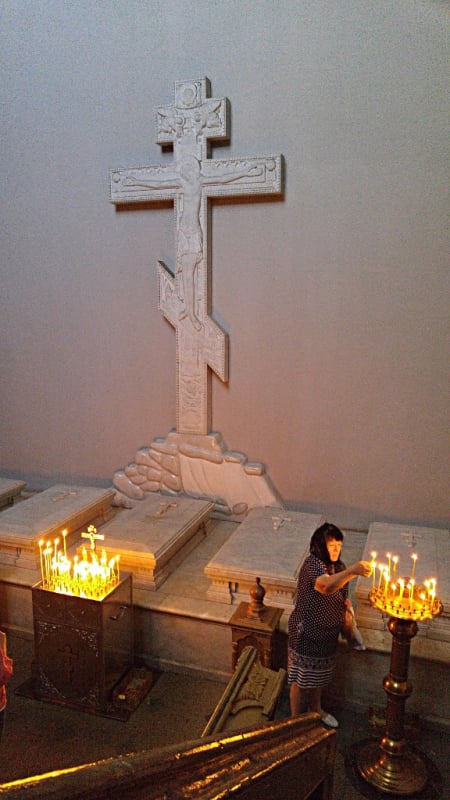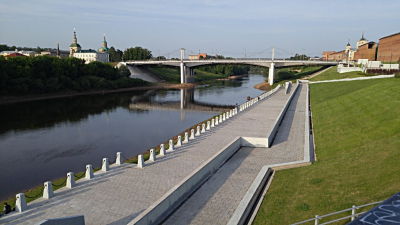 The might Dnepr River running through Smolensk. The German 29 Inf.-Div. (mot.) roared into the city on 16 July 1941.
A breathtaking shot from deep inside the cathedral -- like all my other photos, taken surrepticiously.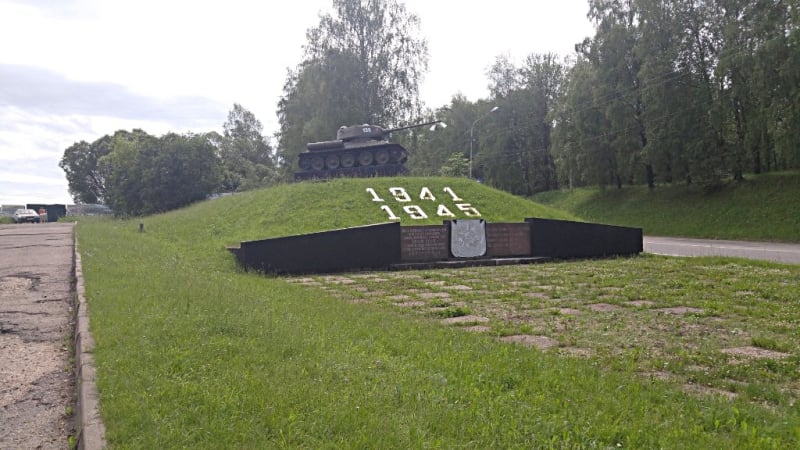 Russian T-34 tanks, mounted on pedestals, are almost as ubiquitous as the birch trees in Russia. This monument, in Smolensk, is (we were told) sometimes used for weddings, the newlyweds decorating the tank with items of clothing, etc. (check the gun barrel closely!). Could one even imagine such a thing in Western Europe or America? 
From this general area, NE of Smolensk, Dr Haape's 6th Inf.-Div. launched its attack on 2 October 1941 as part of Army Group Center's Operation "Typhoon," the advance on Moscow. The terrain is most likely more heavily wooded now than it was at that time.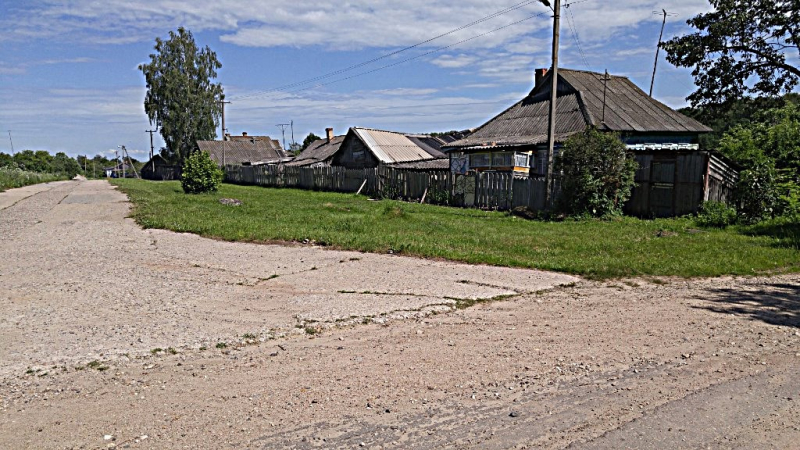 Another poor, dilapidated village in central Russia. We encountered 100s of them -- mostly little more than a handful of beaten down domiciles lining a rutted road. Much of central Russia is virtually depopulated -- no doubt an enduring impact of the Great Fatherland War, 1941/45.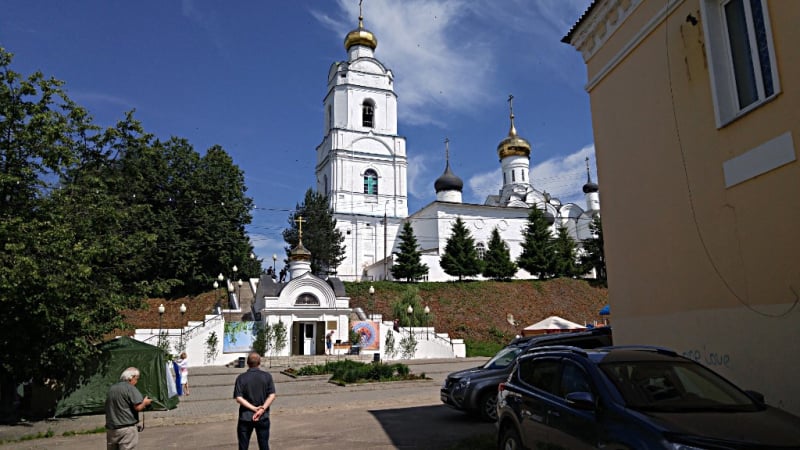 Lovely orthodox church in Vyazma. Church was built between 1674-76. Johannes Haape is standing on far left (fumbing with camera!), and our guide, Sergej, is to his right.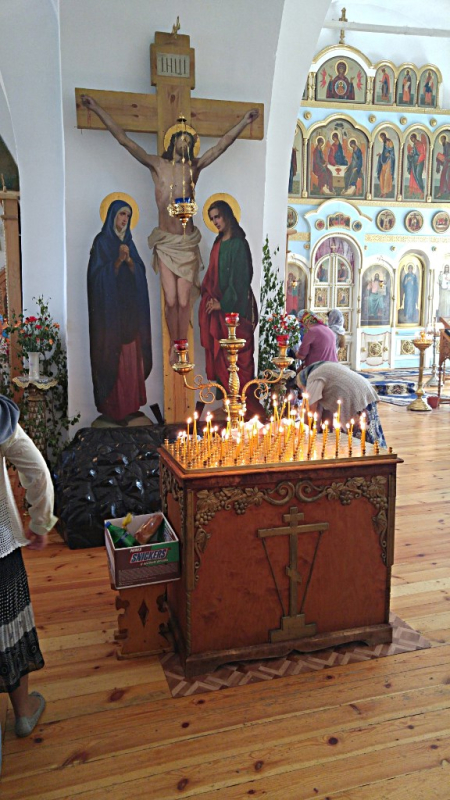 Inside the orthodox church at Vyazma. Notice icons on wall on far right. As many German soldiers reported, most Russia peasant families had Christian icons inside their modest dwellings.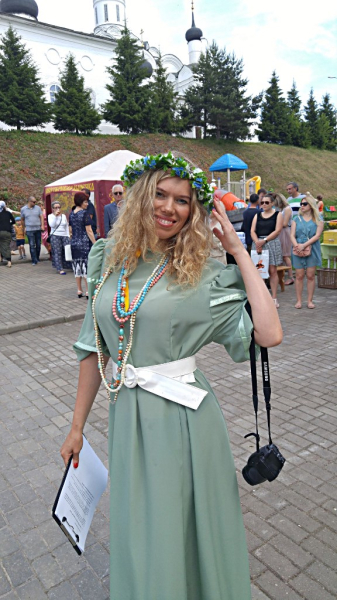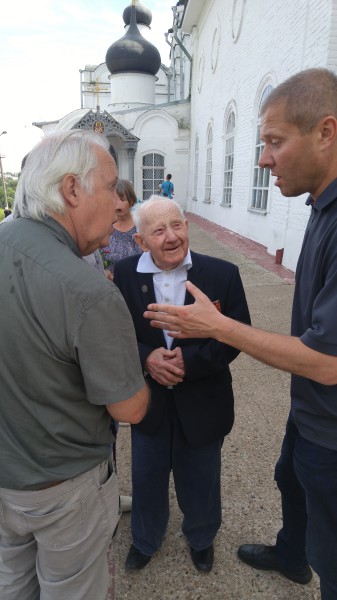 A most lovely Russian woman outside church in Vyazma. Didn't let her clipboard distract me from her most fine appointments!
Johannes and Sergej speak with a 90+ year-old Russian veteran. He claims to have fought for 900 days at Leningrad; on 1 May 45 he was in Berlin and wrote his name at bottom of Reichstag. (May be so, but we would hear that story more than once!)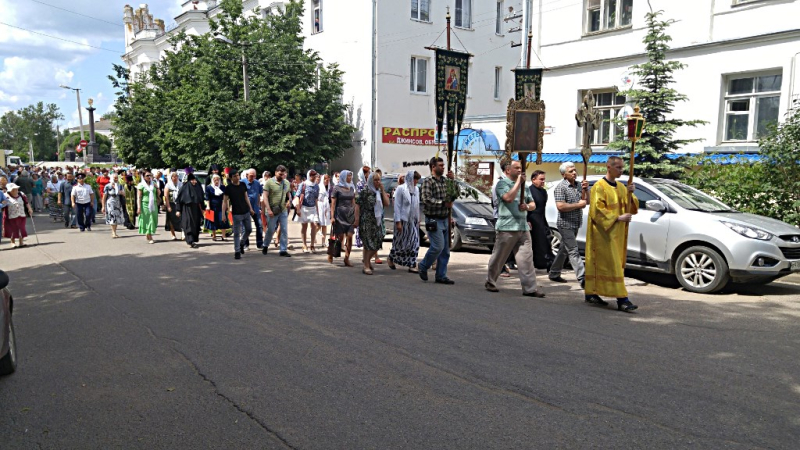 Procession from church in Vyazma. All weekend they were celebrating the 777th anniversary of the town!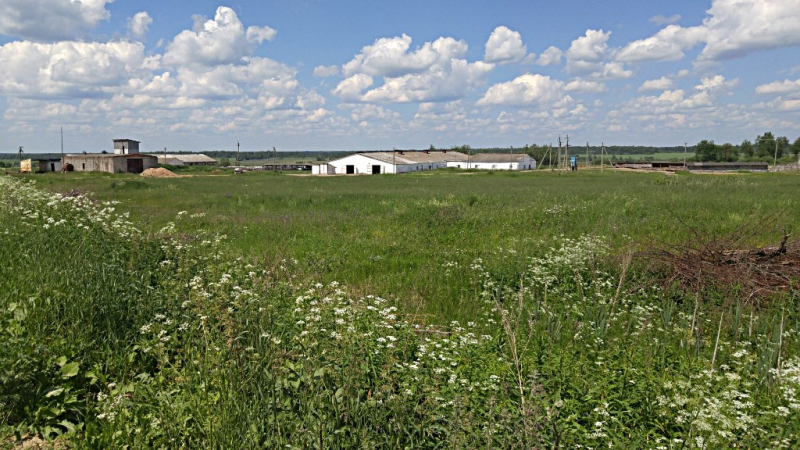 In the distance a Russian collective farm; according to Sergej, many are still in operation today.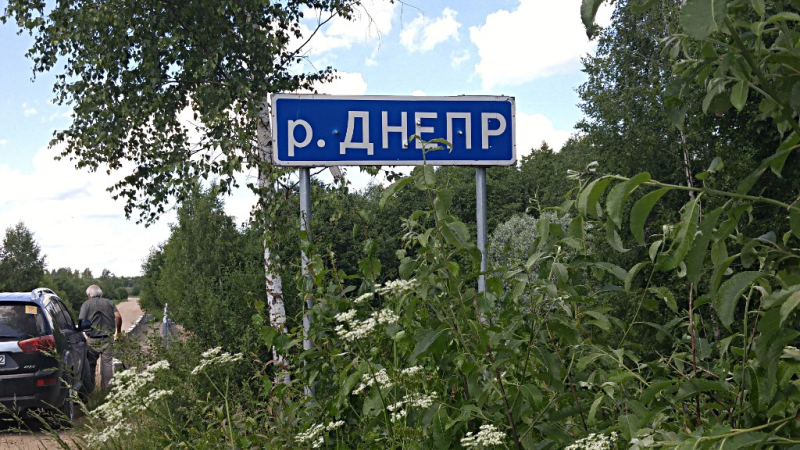 We cross the Dnepr River just a few kilometers north of where Dr Haape's IR 18 crossed the river in early October 1941.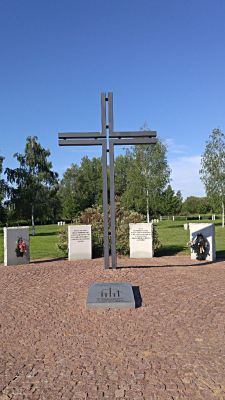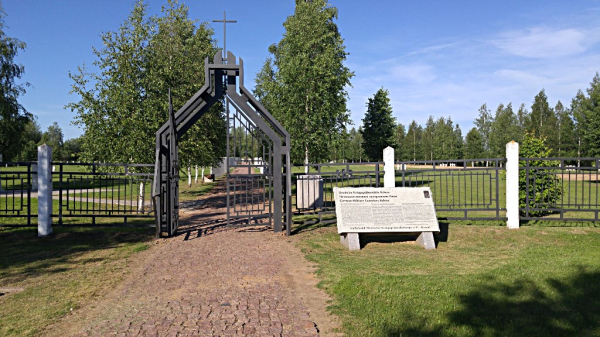 German military cemetery in Rzhev. Eventually, it will hold some 40,000 German war dead.
Christian cross at heart of German military cemetery in Rzhev.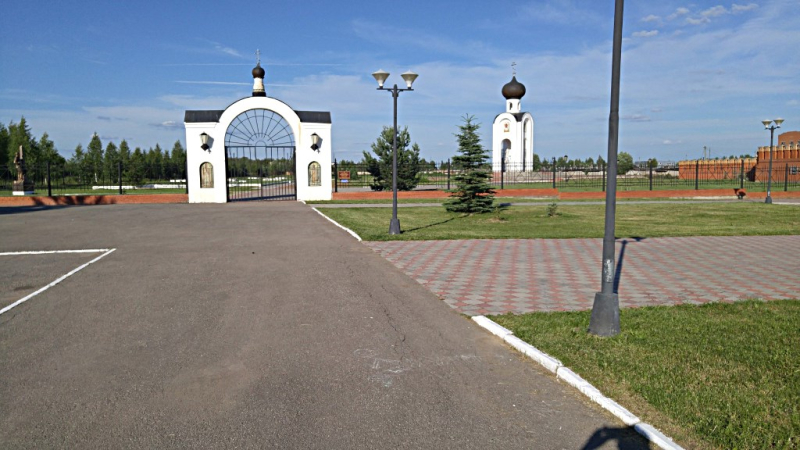 Entrance to the Russian military cemetery at Rzhev (it is directly adjacent to the German cemetery). One million or more Russian soldiers perished in fighting in Rzhev-Vyazma region from Jan 42 - Mar 43. Losses of German 9th Army defending Rzhev were about 120,000 over same period. Throughout entire war in the east, the Germans always maintained a positive casualty ratio (i.e., gave better than they got).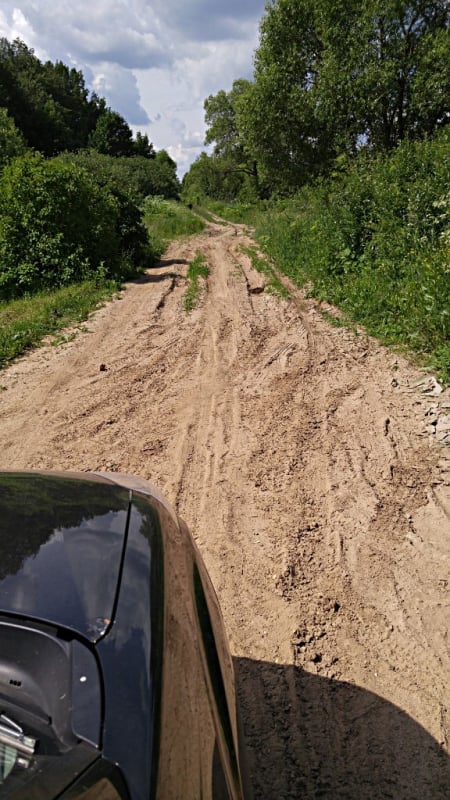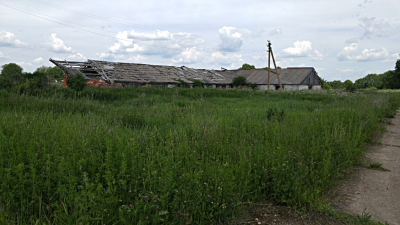 An abandoned collective farm not far from Rzhev -- one of many we saw in Russia.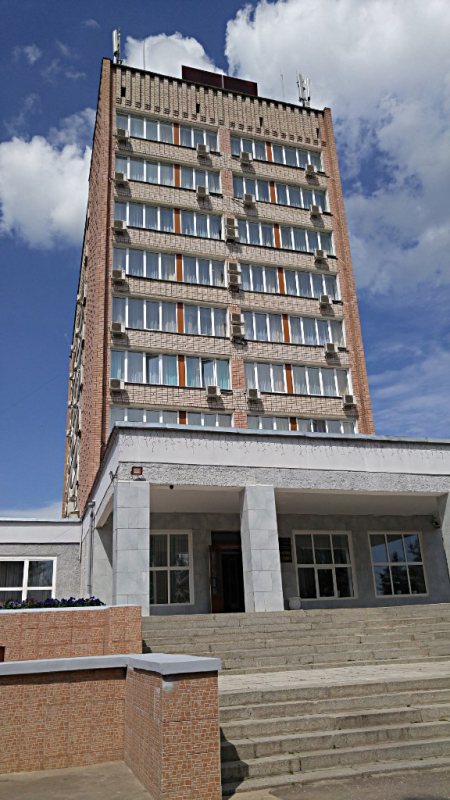 A typical "road" we travelled in search of Dr. Haape's IR 18. Johannes' trusty Peugot SUV did not let us down!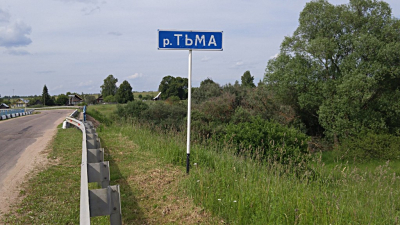 Our hotel in Rzhev. I also stayed here in 2005. The wiring inside along the walls was so bad, it seemed like quite a fire trap to me.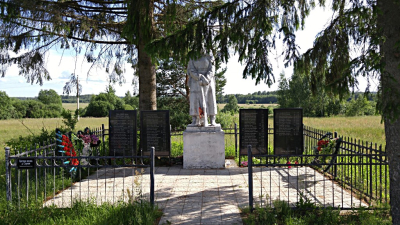 20 June 2016: We finally reach the Tma River sector, due west of Tver (Kalinin). This area, just beyond the Volga, marked the deepest penetration of Haape's 6 ID into Russia in1941. We've now driven more than 3350 km from Berlin since 10 June.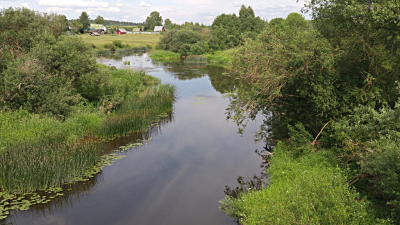 War memorials such as this are found in almost every Russian town and village.
The Tma River, Haape's Infantry Regiment 18 had established a bridgehead across the river by 26 October 1941.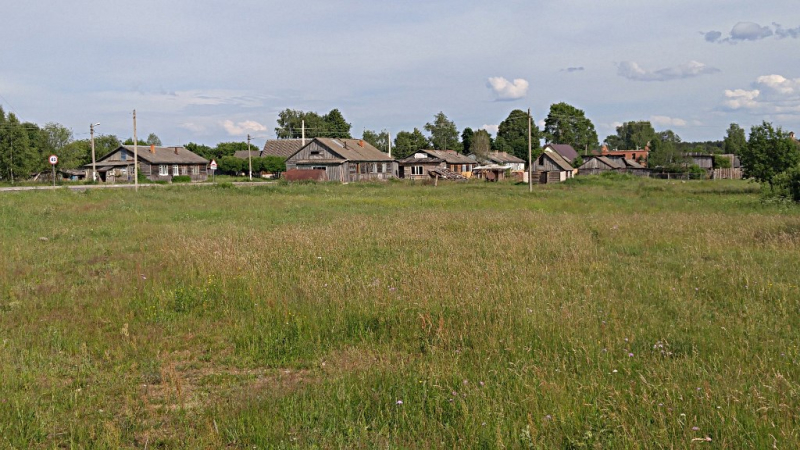 Another modest Russian peasant village -- somewhere between Rzhev and Tver.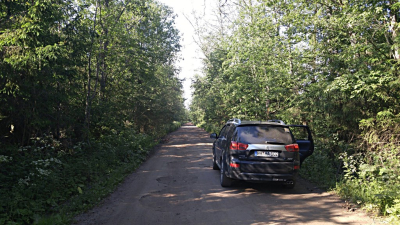 Once again, we've arrived at the End of the World. We are looking for village of Krasnovo (west of Kalinin), where Haape's 3rd Btl. launched a desperate counterattack in mid-Dec 41.
The woods in this area were so primeval, yet so beautiful.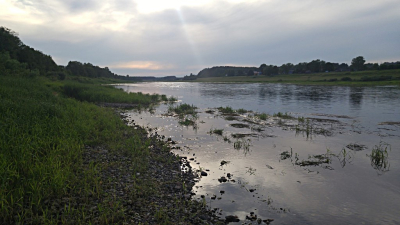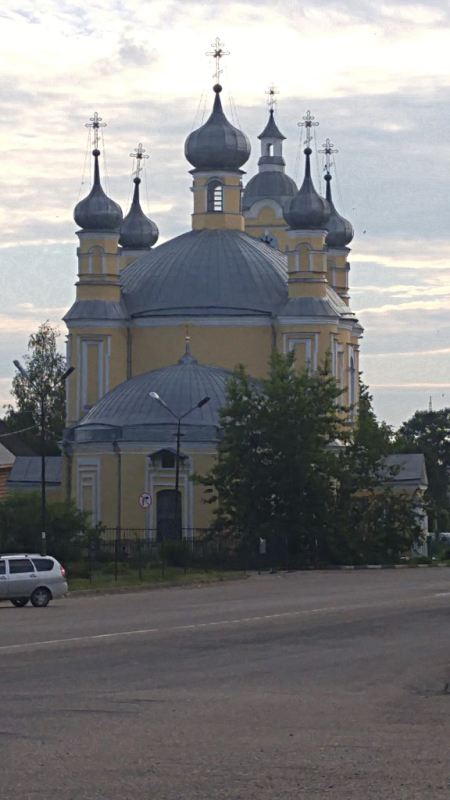 The Volga near Ulitino (ca. 20 km NE of Staritza), where the 6 ID crossed the river on 21 Oct 41.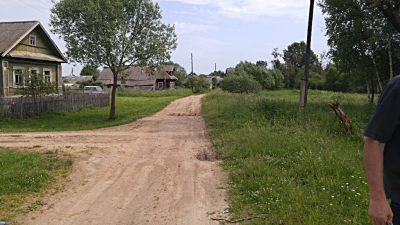 A stunning orthodox church in Staritza. The history of the town reaches back to the late 13th Century.
We drive into the desolate village of Schitinkovo -- site of tenacious and desperate combat involving Haape's 3rd Btl. in late Dec 41. It was here, on 29 Dec, that the great warrior Oberleutnant Graf von Kageneck was killed. Only days before his wife, the Princess of Bavaria, had given birth to twins.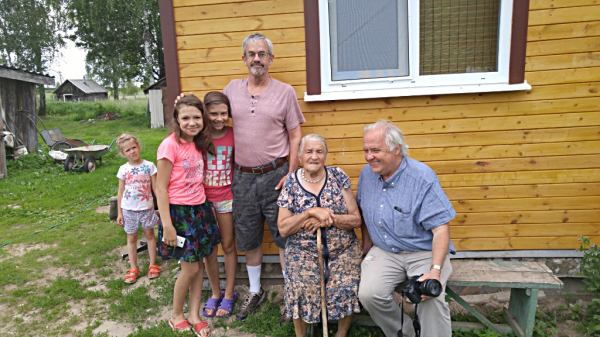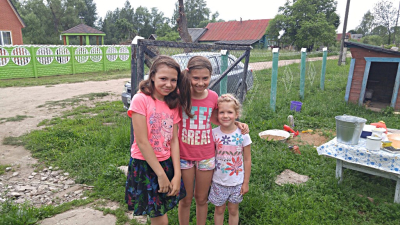 In Schitinkovo we met these three adorable young girls.
In Schitinkovo, we encountered this very old woman. She was about 11 years old when the fighting took place in Dec 41, and recalled it vividly.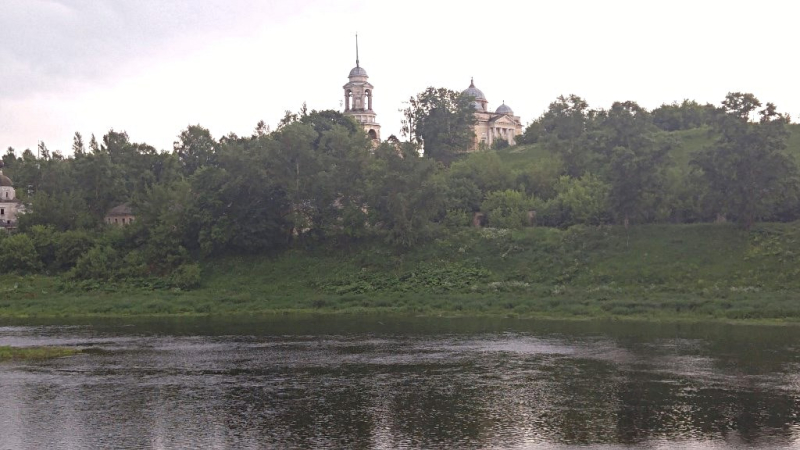 View across the Volga of lovely monastery church outside Staritza. I also took a photograph of this church from almost same angle in 2005 (see above).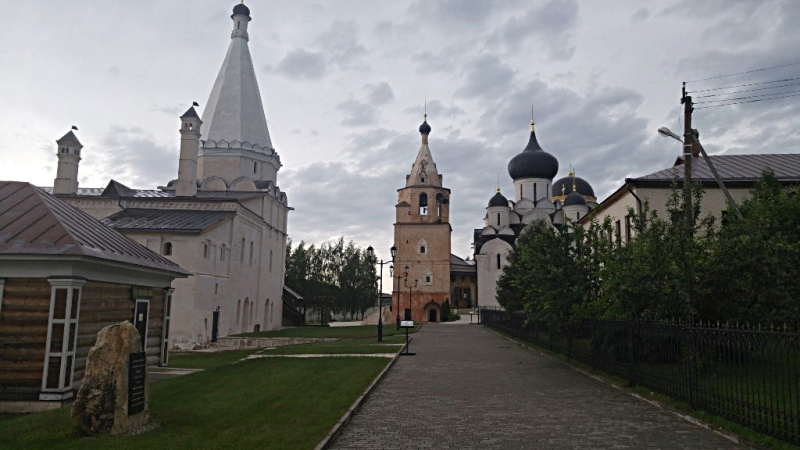 In Staritza, we visit the grounds of the Holy Uspensky Monastery under a leaden sky.
Remains of an old church in Staritza-Nord. According to reliable information in our possession, ca. 40 meters in front of this church is a mass grave where 38 fallen German soldiers are entombed.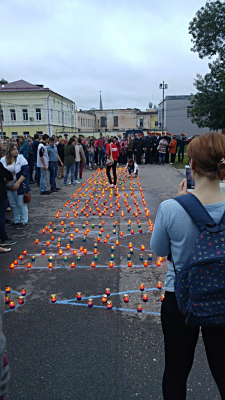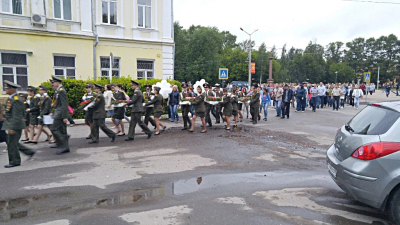 22 June 2016: The 75th anniversary of the German invasion. President Putin has ordered that observations of that terrible day so long ago take place throughout the country. We are up at 3.30 a.m. to witness start of events in Rzhev.
A procession moves through Rzhev on its way to the Volga.
From high above the mighty Volga, we watch as wreaths are about to be dropped into the river.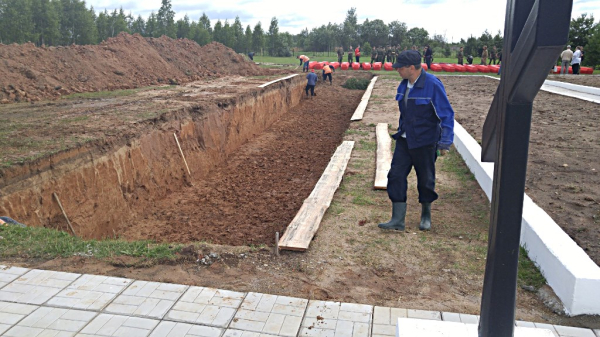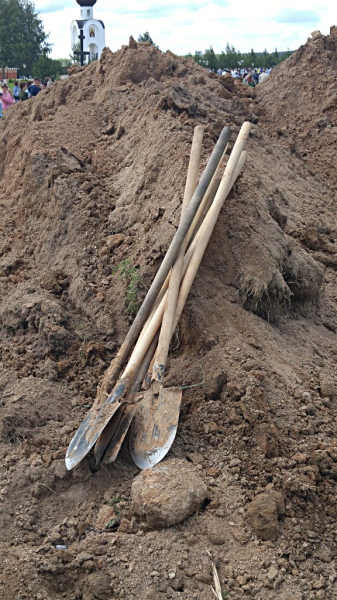 22 June 2016: At Russian military cemetery in the "Peace Park" at Rzhev, the remains of 1200 Russian war dead are about to receive their final resting place.
The shovels stacked together -- a symbolic gesture?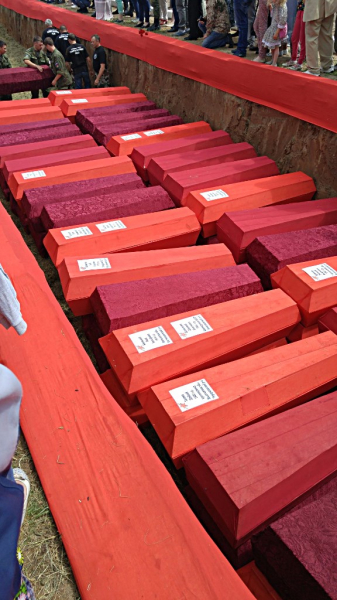 The remains of the 1200 Russian war dead are laid to rest. Original grave sites of Russian and German soldiers in the Rzhev - Vyazma area are constantly being discovered. Many have already been plundered by petty thieves. (See my Rzhev 2005 photos above.)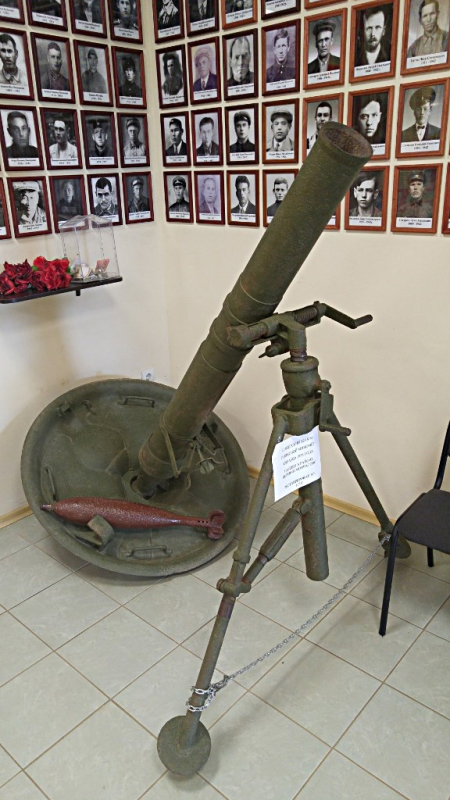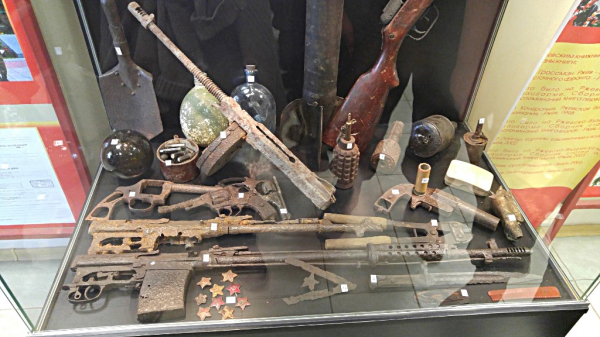 Red Army weapons on display at the museum outside the Peace Park in Rzhev.
Red Army heavy mortar at museum in Peace Park. Russian soldiers were amply outfitted with such weapons.
German weaponry and paraphernalia on display at museum in Rzhev.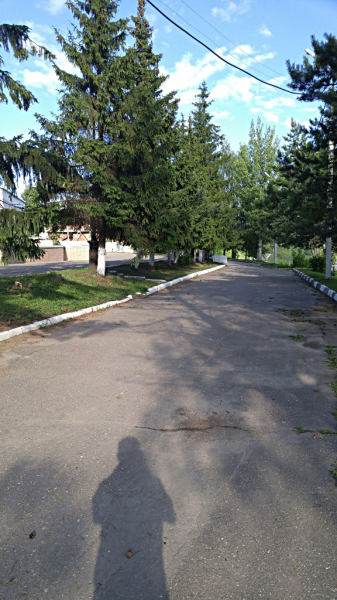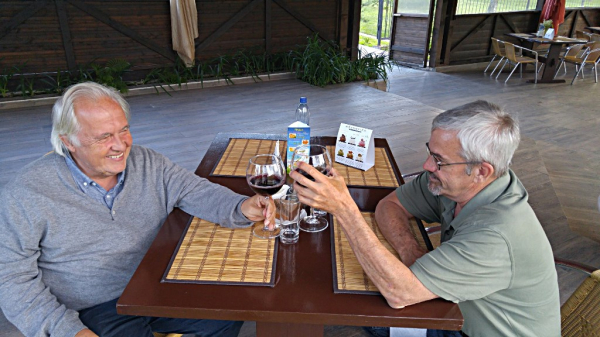 Johannes and I share a toast at our "regular" restaurant just across the Volga from Hotel Rzhev. Sergej must have gone to the bathroom.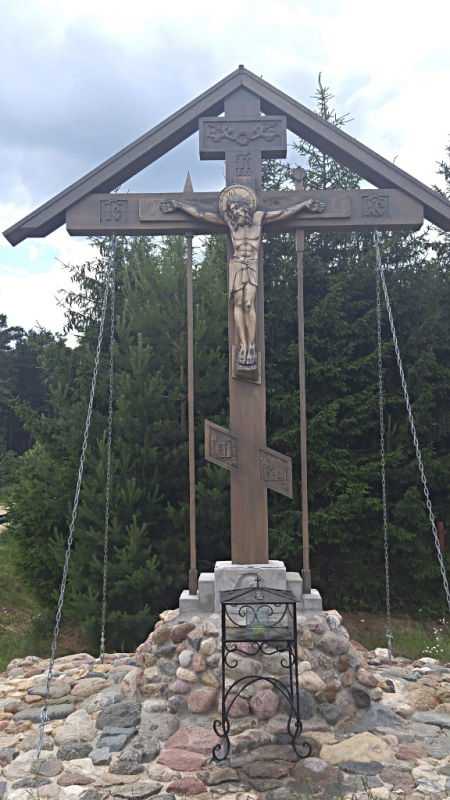 Exact location (just outside the Hotel Rzhev) where I was nearly beaten to death early on the morning of 29 May 2005. The undergrowth which was then beneath the trees -- and which concealed my attackers -- has been cleared away.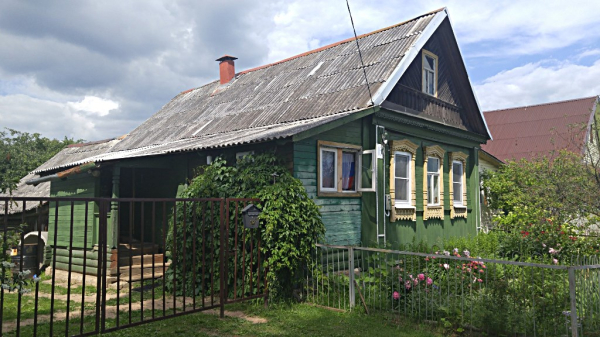 Many of the better-kept peasant houses were painted in glaring colors -- greens, purples, reds, etc. Such coatings, we were told, helped protect the domiciles during Russia's arctic winters. 
Orthodox Christian crosses such as this are quite common in and around many Russian villages..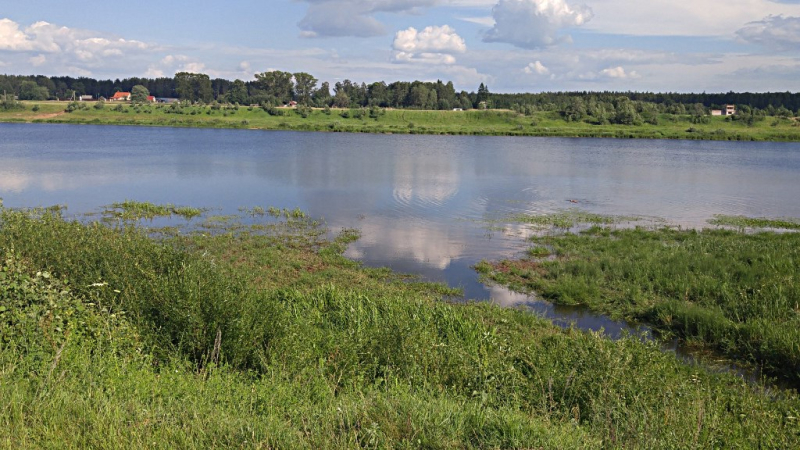 On 15 Dec 41, after his leave to Germany had been abruptly cancelled, Dr Haape slid down the snow on the far steep bank of the Volga, then crossed the river, to reach the regimental CP in a village NE of Staritza. From our map study, etc., we were quite sure we found the exact spot described by Haape in his memoir.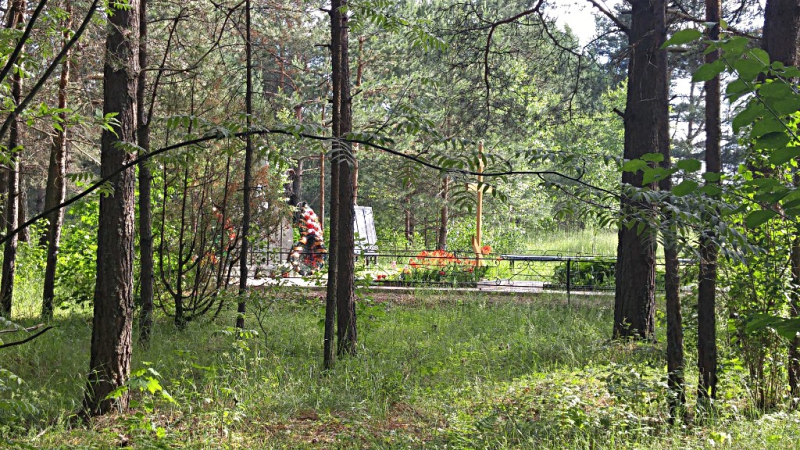 My modest attempt at an "artistic" photograph of a Russian war memorial not far from Tver (Kalinin).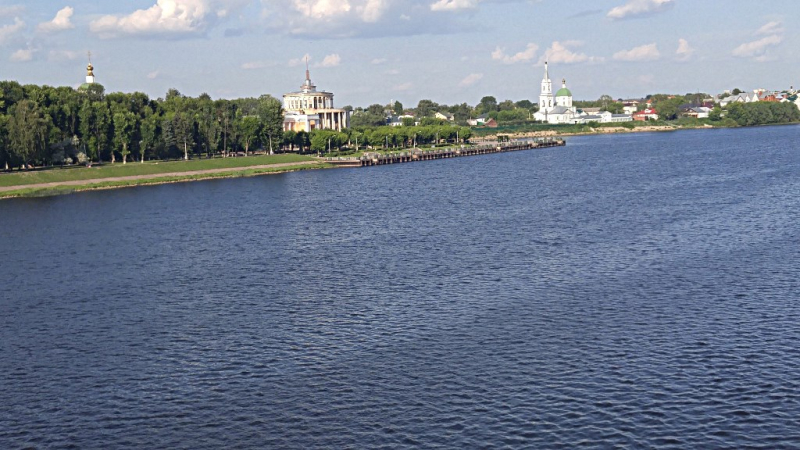 The mighty Volga River running through the city of Tver (Kalinin). The city was captured by the Germans in mid-Oct 41, and liberated by the Red Army on 16 Dec 41. In fact, it was the first major city to be liberated from the Wehrmacht during World War II.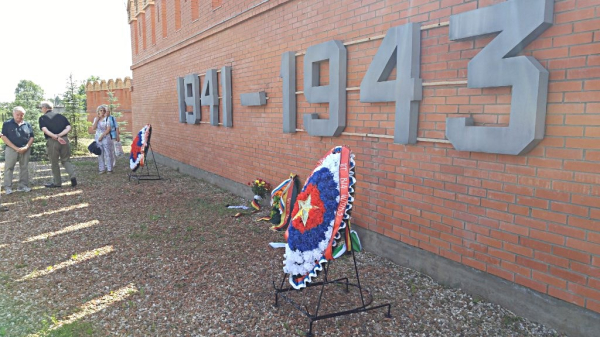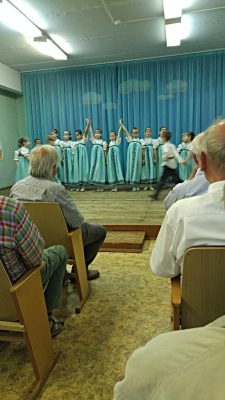 Wreaths are placed at the Russian memorial in the Peace Park in Rzhev.
Russian school children perform for members of the Kuratorium Rzhev.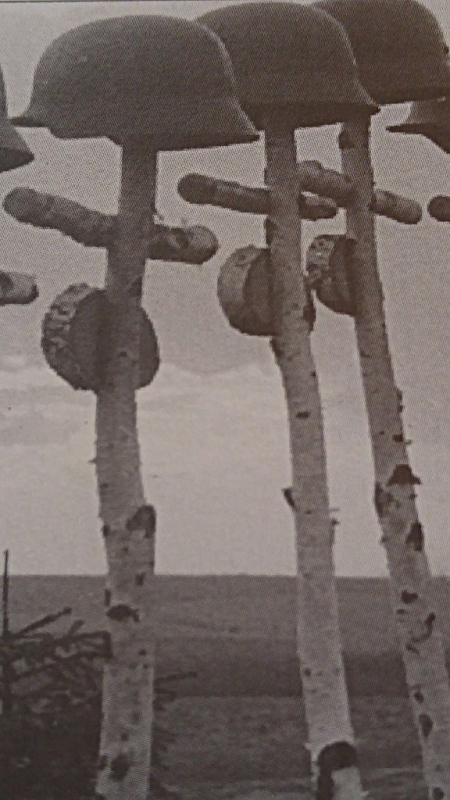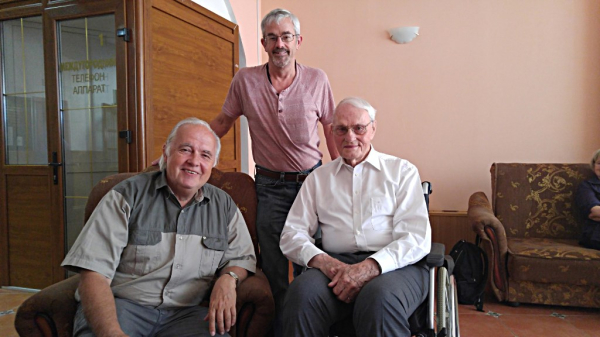 Johannes Haape, Dr Luther and Dietrich Schoening at the Hotel Rzhev. The 98-year-old Herr Schoening was the only German veteran of WWII to accompany the Kuratorium on its visit this year to Rzhev. Schoening was captured by the Russians in the summer of 1944, and did not return home until July 1949. Herr Schoening passed away on 3 August 2016.
An iconic image of the German "Landser" (G.I.) in Russia -- the steel helmets of fallen soldiers atop simple birch crosses. (I shot this photo off the wall at the war museum at the Peace Park in Rzhev.)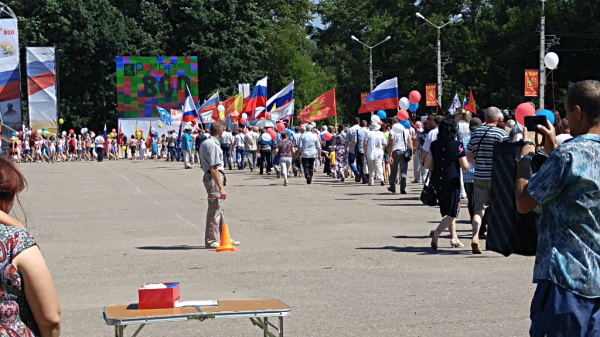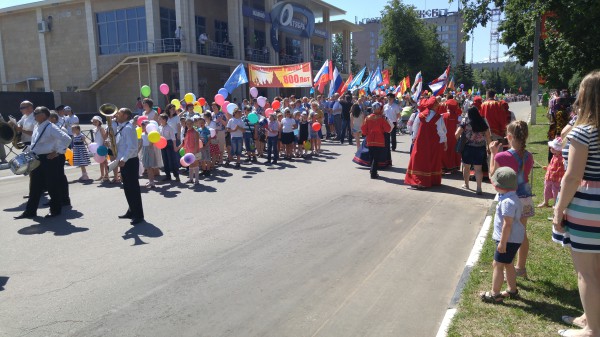 The first known documented reference to Rzhev was apparently in 1216.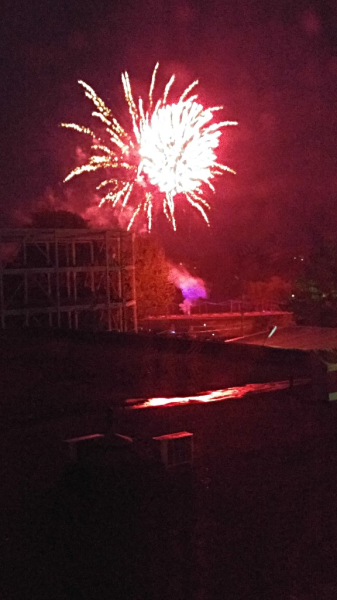 A colorful procession walks past the Rzhev Hotel celebrating 800th Anniversairy of city of Rzhev.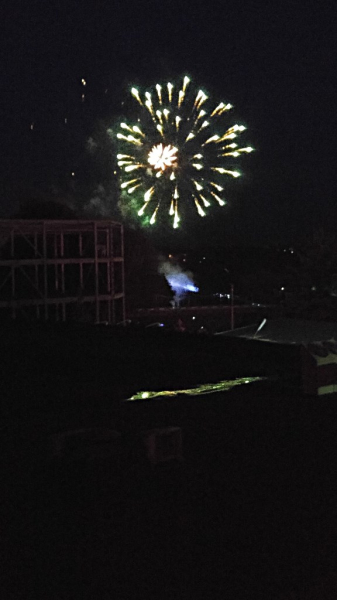 Both photographs shot from my hotel room, at midnight.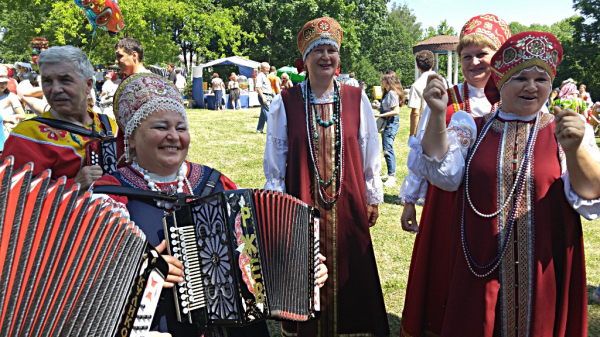 Celebrations of Rzhev anniversary culminate in fireworks.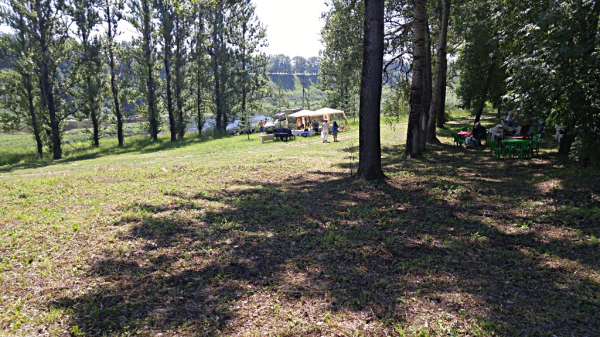 A Russian musical group regales us.
A picnic on the Volga, on occasion of the Rzhev folklore fair.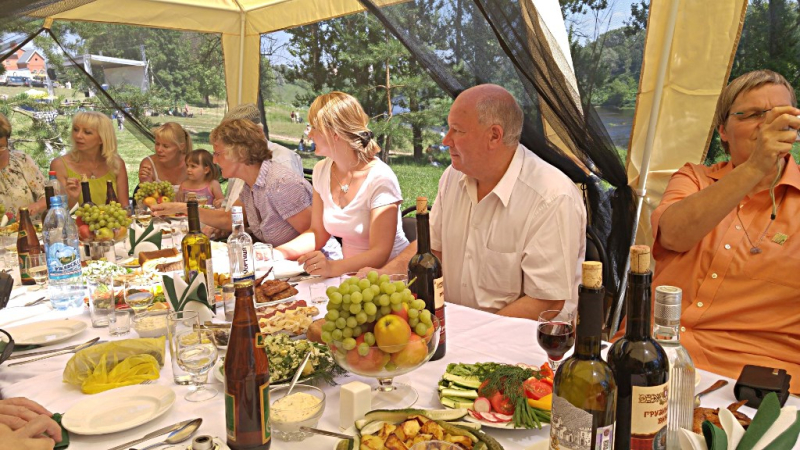 We had a wonderful lunch inside a tent on this uncomfortably hot early summer day.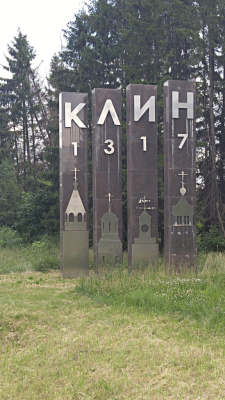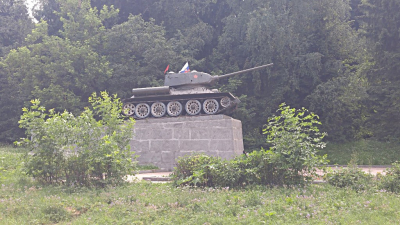 We enter the town of Klin, about 75km northwest of Moscow.
Another T-34 on a block of granite!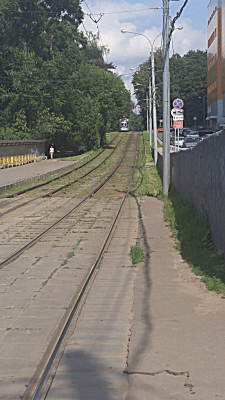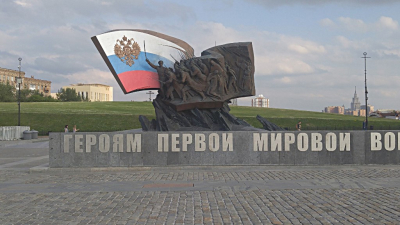 A tram line on the outskirts of Moscow, as we search for the former location of the tram stop visited by Dr Haape and Oberleutnant Kageneck in late Nov 41.
A Russian memorial in Victory Park in Moscow honoring veterans of World War One. Upon reaching Moscow, we had zick-zacked our way ca. 4600 km from Berlin!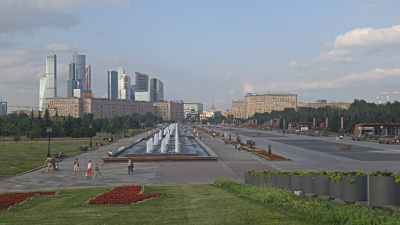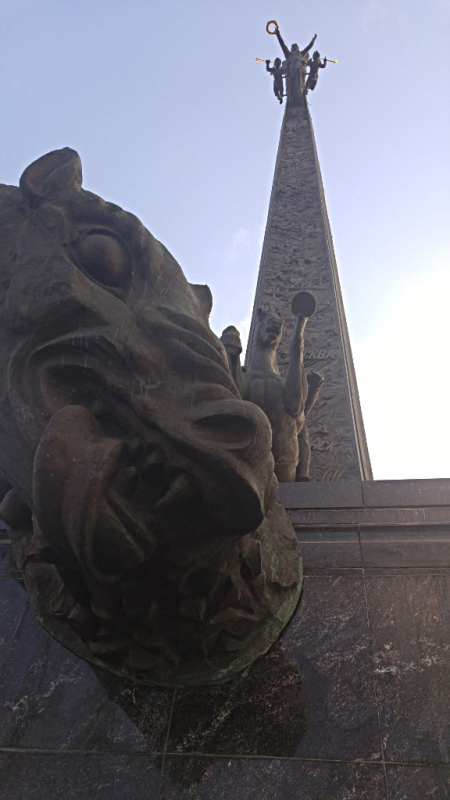 A view looking out on Victory Park in Moscow. The park honors the Red Army's victory over Germany in World War II.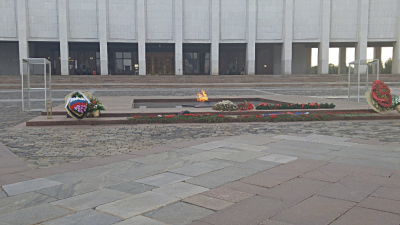 The spectacular monument that dominates the Victory Park, displaying the slaying of the German dragon.
The eternal flame at the Victory Park.
Sounding the clarion call of victory -- another image from Victory Park set against a brilliant sunset.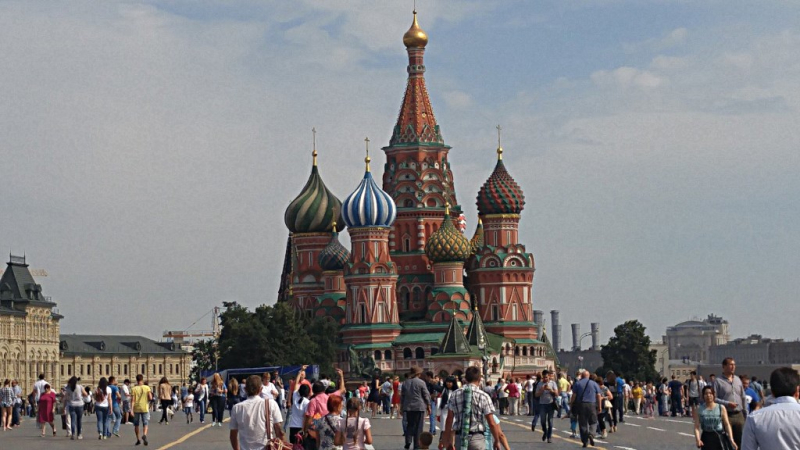 The breathtaking Basilica in Red Square. The famous GUM department store is on the left.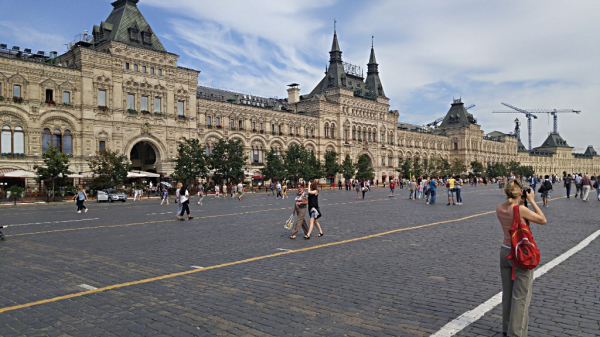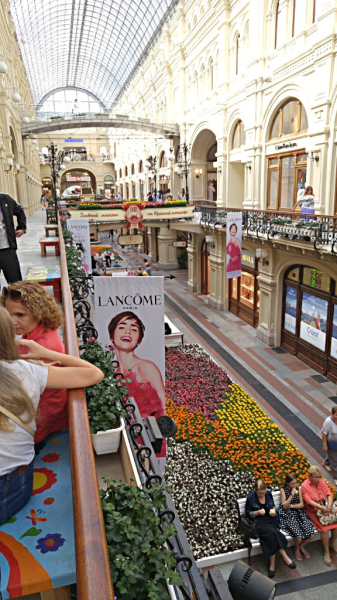 The Gum Department store was established in 1893.
Inside GUM: I inquired with a sales lady about a rather modest looking yellow hand bag for my wife. Price: About $2300.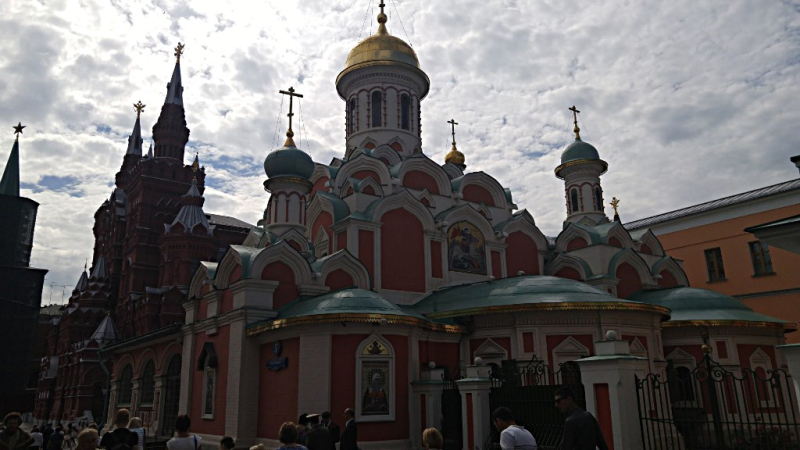 Stunning orthodox Christian church inside Red Square.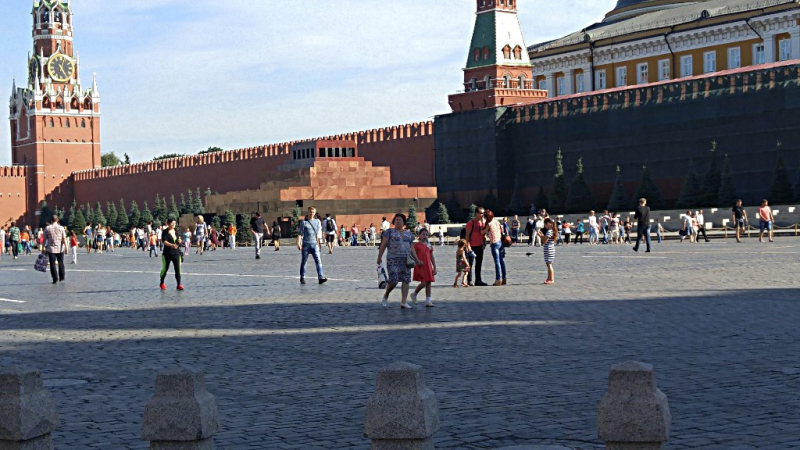 Red Square -- The rectangular structure in center of photograph (adjacent to wall) is Lenin's Tomb. As the Germans approached Moscow in Oct 41, Russian authorities went to great lengths to evacuate Lenin's body from the city.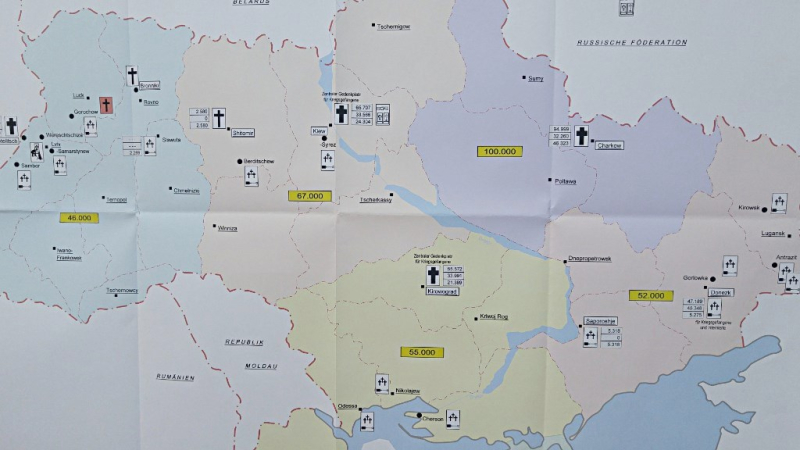 One of several color maps on the wall of the German War Graves Commission in Moscow showing locations of cemetaries and numbers of those interred. Since early 1990s, the commission has located and reburied in formal military cemetaries the remains of some 350,000 fallen German soldiers. Over four million German soldiers perished on the eastern front 1941/45.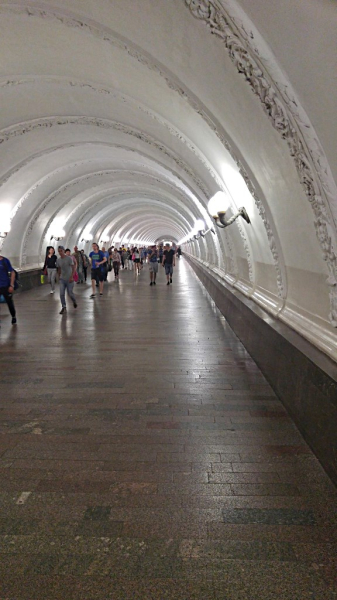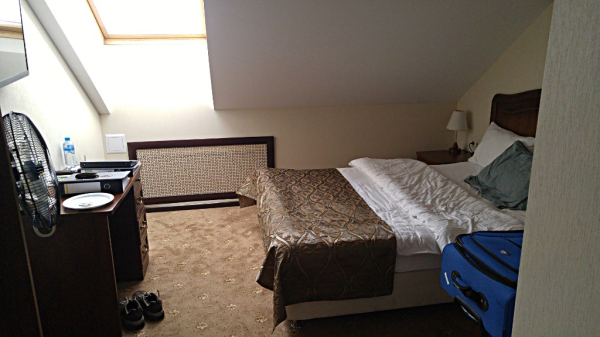 The Underground in Moscow. Was used as a bomb shelter during World War II. First Luftwaffe raid on Moscow took place on night of 21/22 July 1941. In months that followed the Germans would conduct dozens of (mostly minor) aerial assaults on the Soviet capital to very little effect.
 My single room in our very nice hotel in Moscow. Throughout our trip the hotel rooms were small, even tiny, but the cost was always minimal compared to hotels in Western Europe or America.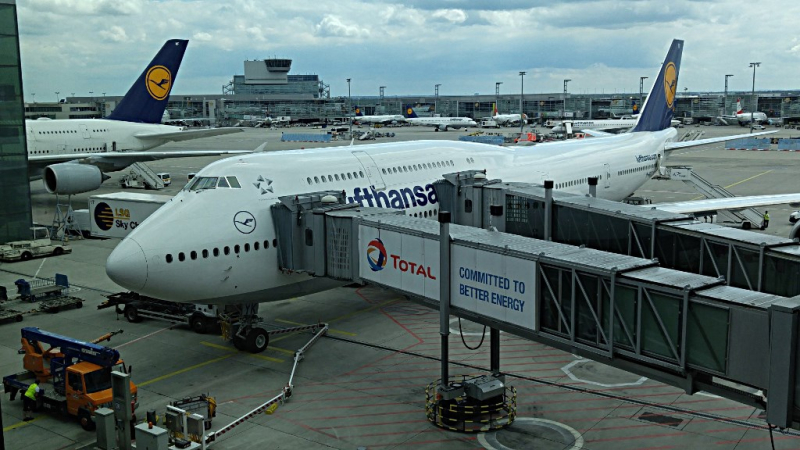 The giant Lufthansa Airbus which flew me (and ca. 500 others) from Frankfurt to Los Angeles on 1 July 2016. It was so nice to get home -- I missed my wife and all our furry four-legged friends.